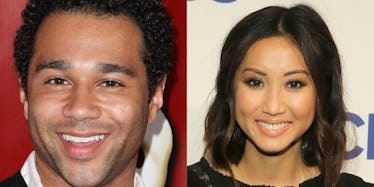 Here's What Your Favorite Disney Channel Original Movie Stars Are Up To Now
Chelsea Lauren/Getty Images Entertainment/Getty Images Jemal Countess/Getty Images Entertainment/Getty Images
Growing up, Disney Channel wasn't just TV, it was a way of life. No, seriously. Pre-teen me did my very best to cop Lizzie McGuire's style, crushed hard on Troy Bolton (who didn't?), and tried to convince all my friends to form our own Cheetah Girls cover band. And while, thank god that didn't pan out, yep, I was hardcore. DCOM premieres were like Christmas, and my DVR had a stream of the latest Suite Life and That's So Raven episodes. From Selena Gomez to Shia LaBeouf, the franchise has cranked out A-listers; and although some have obviously gone on to appear in major motion pictures and release chart-topping hits, not everyone was cut out for mega-stardom. We can't all be a Miley. But no matter what Disney Channel stars are up to now, they've made their mark. Icons forever.
Sabrina Bryan & Kiely Williams
While, Adrienne Bailon and Raven-Symoné have remained in the spotlight (Symoné stars in That's So Raven reboot, Raven's Home, and Bailon co-hosts The Real) Sabrina Bryan and Kiely Williams have strayed a bit further from the public eye. After the group officially disbanded in 2008, the pair (AKA Do and Aqua) have remained tight. Bryan served as maid of honor in Kiely's 2016 wedding, while Kiely will return the favor for Sabrina's own upcoming nuptials. They're Cheetah Girls, Cheetah Sisters for life. Along with separate TV and film roles, including Bryan's gig as a contestant and correspondent on Dancing With The Stars, they've since co-created the web series, Dinner with Friends, March Moms, and Bad Sex with Good People.
Kimberly J. Brown
As a kid, October couldn't pass without at least one Halloweentown screening. And despite having premiered nearly 20 years ago, the DCOM's message is still relevant AF - "being normal is vastly overrated." While franchise star, Kimberly J. Brown has extended her acting resume beyond the classic flick, she hasn't forgone her roots. In fact, she runs a Halloweentown-inspired Etsy shop, Craftily Creative and is reportedly dating her former co-star, David Kountz (Kal from the sequel!). Looks like she is just as obsessed as the rest of us.
Christy Carlson Romano
We all know that Shia LaBoeuf is off being eccentric and filming big time movies, but what about his Even Stephens sis, Christy Carlson Romano? The Kim Impossible star has done a lot. After kissing her Disney Channel days goodbye (which obviously included a singing career), Romano continued to act on Broadway and screen, attended Columbia University, and started a family. She welcomed her first daughter with husband Brendan Rooney in 2016.
Kirsten Storms
Zenon Kar was definitely a style icon. The Zenon: Girl of the 21st Century star could rock neon, metallic, and a high pony like no other. But after wrapping her role in the galactic girl trilogy, IRL actress Kirsten Storms remained a Disney staple, appearing in Kim Possible and That's So Raven. Returning to her soap opera beginnings in 2005 (she first appeared on Days of Our Lives in 1999), Storms became a series regular on General Hospital and continues to portray Maxie Jones to this day.
Ryan Merriman
How did I not put two and two together that Pretty Little Liar's star Ian Thomas was also Luck of the Irish's Kyle Johnson? Before making his Freeform debut in 2010, Ryan Merriman was a Disney Channel regular, boasting three starring roles including Smart House and Ring of Endless Light. He remained a recurring character on PLL for the series' first four seasons. Merriman, whose Instagram bio reads "Country boy, Actor, Golfer.... Dog lover," continues to act (and take a lot of selfies). His latest project, Jurassic Games, hit DVD July 3.
Jennifer Stone
Everyone was all smiles (fans included) when the cast of Wizards of Waverly Place reunited at David Henrie's wedding in 2017. "A special day with some amazing people," Jake T. Austin captioned a series of shots alongside his on-screen fam. And while Austin is known for his post-Wizards role on The Fosters, Henrie is set to make his directorial debut with This Is The Year, and Selena Gomez is, well, everywhere, the real life Harper Finkle has led a quieter life since the show wrapped. Opening up to J-14 about her decision to take a four year break from acting, Jennifer Stone said:
I took some time off to go to school. Wizards was such a whirlwind, and it was such a crazy change for me. I just went from being a working actor to – all of a sudden – being on people's radar. So I just wanted to take a break and step outside of the limelight for a bit. And just sort of pursue other interests and make sure that acting is what I want to do for the rest of my life. After I took some time and took a lot of classes, I realized that, yeah, acting is what I want to do for the rest of my life. I love it more than anything.
Jason Earles
Dang flabbit, Jackson Rod Stewart. If there's one thing you need to know about 2018 Jason Earles, it's that he's still close with his Hannah Montana (and Dadnapped) co-stars. So, it's official, life made. The actor married his longtime girlfriend, Katie Drysen in 2017, and invited his former Disney Chanel cast mates to the nuptials. Per Instagram, Phillip Lewis, Emily Osment, Moises Arias all joined in on the wedding day fun. "Casual Dadnapped reunion!" Osment began her post. Earles, Osment, and Arias reunited again with Mitchell Musso for another Nostalgic photo op, and now I can't help but wonder, where were Miley and Billy Ray?
Adam Lamberg
Who could forget Gordo? Lizzie McGuire's beloved BFF-turned-love interest charmed audiences throughout the series' reign, but shortly after the show came to an end, so did Adam Lamberg's acting career. The star left the business for good in 2008 and pursued higher education. Gordo was always such a brain. According to Bustle, Lamberg attended UC Berkley and graduated with a degree in Geography, before later earning his MPA from Baruch College.
Corbin Bleu
Despite proclaiming "I don't dance" in the classic High School Musical bop of the same name, Corbin Bleu has really made a name for himself with his moves. After the HSM franchise came to a close, Bleu double dutched his way through fellow Disney Channel Original, Jump In, performed on Broadway, and even competed on Dancing With The Stars. The actor proposed to girlfriend, Sasha Clements, at Disney World (because, duh), before tying the knot in 2016.
Brenda Song
Brenda Song was another DC constant. She picked up roles in That's So Raven, Phil of the Future, Get a Clue, and more, before landing her most memorable gig as London Tipton on Suite Life of Zack and Cody. She hasn't just kept up with acting, she's killed it. Her IMDB page is filled with credits, including The Social Network, New Girl, Scandal, Superstore, Pure Genius, etc. Song's personal life quickly became a topic of conversation when she was first spotted cozying up to her Changeland co-star Macauley Culkin in July 2017. Without naming names, the Home Alone star opened up about his relationship to Anna Faris on her podcast, Unqualified. "I'm with a lady right now and she is so good to me that they feel like blows," he dished. "She just does nice things, and I feel like at first I didn't know how to be treated well in that kind of way. It was a strange, almost foreign concept. So that kind of thing, I realized it is important to me."
Hayley Kiyoko
I've spent the last few months trying to place "What I Need" songstress, Hayley Kiyoko, and then it hit me: Wizards of Waverly Place. The up-and-coming singer and LGBTQ advocate got her start on Disney Channel as Stevie Nichols, and later appeared in DC original, Lemonade Mouth. But despite her booming music career, Kiyoko hasn't abandoned her passion for acting all together. She currently works on Facebook Watch series Five Points alongside fellow Disney Channel alum, Madison Pettis.