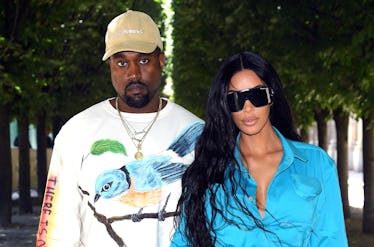 Kanye West Got Real About His Fear That Kim K Was Going To Leave Him & It's A Lot
Pascal Le Segretain/Getty Images
Kanye West opened up big time about his life in an interview with The New York Times. In the interview, he tried to backtrack on his whole slavery was "a choice" comment (lots of fans weren't buying it), but he also talked about his marriage and fears that he nearly ruined it. Kanye West's comments about Kim Kardashian leaving him show just how scared the rapper was that his actions might've ended his marriage. And to be fair, Kardashian did say they fought a lot about that particular TMZ appearance.
In his interview with The New York Times, West talked about his TMZ appearance at length. In that appearance, he said, "When you hear about slavery for 400 years. For 400 years?! That sounds like a choice. Like, you was there for 400 years and it's all of y'all!?" A TMZ staffer named Van Lathan went viral following that interview with a video that showed him telling West he needs to be more responsible about the things he says. West, seemingly trying to backtrack or at least improve his image a bit, said to The New York Times,
I said the idea of sitting in something for 400 years sounds — sounds — like a choice to me, I never said it's a choice. I never said slavery itself — like being shackled in chains — was a choice. That's why I went from slave to 400 years to mental prison to this and that. If you look at the clip you see the way my mind works.
OK... He did try to own up to the inappropriate (to say the least) comment by saying, "What I will do is I'll take responsibility for the fact that I allowed my voice to be used back to back in ways that were not protective of it when my voice means too much." OK, Kanye...
It was all of this TMZ drama that led him to believe Kim Kardashian might leave him. "There was a moment where I felt like after TMZ, maybe a week after that, I felt like the energy levels were low," he told the outlet. West added that he went so far as to talk to their family about the possibility of his wife leaving him. He said, "I called different family members and was asking, you know, 'Was Kim thinking of leaving me after TMZ?' So that was a real conversation."
She didn't leave him, though, and West dedicated a song on Ye to her commitment to him.
The song "Wouldn't Leave" was the first thing to reveal to the public that there was turmoil in their relationship as a result of his TMZ appearance. Kardashian had previously defended her husband's right to have his own point of view on Twitter and she received a lot of backlash from fans as a result. But the song, and Kardashian's comments in a red carpet interview following the release of Ye, revealed that she didn't just support his opinions blindly and that she didn't agree with all of his opinions.
West raps in "Wouldn't Leave,"
They say, 'Build your own'—I said, 'How, Sway?' / I said, 'Slavery a choice'—they said, 'How, 'Ye?' / Just imagine if they caught me on a wild day / Now I'm on 50 blogs gettin' 50 calls / My wife callin', screamin', say, 'We 'bout to lose it all!' / Had to calm her down 'cause she couldn't breathe / Told her she could leave me now, but she wouldn't leave.
Kardashian attended the 2018 CFDA Fashion Awards on Monday, June 4, and her interview from the event's red carpet revealed that she and West fought a lot about the things he said on TMZ. She said,
Did I talk about it? Did I scream about it? Did I cry about it? Did I fight about it? Yeah. That's not stuff we put on social media — I'm not going to start tweeting what my thoughts are, but we have those moments ... we have different views sometimes, but that's my husband, you know?
I guess the only person who can make Kanye West feel like he made a huge mistake is Kim Kardashian. Good to know.