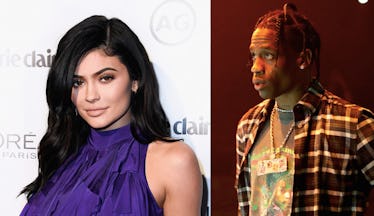 This Photo Of Kylie Jenner & Travis Scott Out To Dinner With Friends Is So Adorable
Getty Images Entertainment
Kylie Jenner and Travis Scott are showing more photos of themselves together after the birth of their daughter than they did before Jenner was pregnant! The couple, who most recently posted adorable videos of baby Stormi celebrating her first Easter, went out to dinner with Jordyn Woods' family on Saturday, March 31, and the photo of Kylie Jenner and Travis Scott out to dinner with friends is so cute. The pair went out to celebrate with Jordyn Woods' family for her mother's, Elizabeth Woods, birthday. Woods posted a photo of the group dinner to her Instagram on Sunday, April 1, and it showed the Woods fam sitting at a table at Ruth's Chris Steakhouse in L.A. with Jenner and Scott standing behind them. Scott's arms are around Jenner's shoulders in the shot.
Woods said in her caption for the photo, "Thank you to these beautiful people who came to share my birthday with me ❤️love you all ❤️❤️❤️ #teamigotthis #love #family." Jenner and Scott unfortunately didn't bring baby Stormi along to the dinner, but that's OK. They posted videos of the baby on Easter, so that more than made up for it.
The photo of Kylie Jenner and Travis Scott with Jordyn Woods' family is so sweet.
Jenner and Scott have been dating for almost a year now! The couple first got together in April of 2017, and fast-forward one year, and they're adjusting to life as new parents to baby Stormi Webster. (Travis Scott's real name is Jacques Webster.)
Look at that little nugget! Jenner posted a video of Travis Scott holding baby Stormi, and Stormi looks straight-up mesmerized by her dad's face.
Then he leaned in to give her a kiss on the cheek, and it's so adorable.
Stormi Webster is crushing the Easter outfit game.
Can we also please talk about how amazing the decorations were at this Kardashian/Jenner Easter celebration? Just look at this freaking table!
The kids' table looks like it belongs in an IKEA ad.
And don't even get me started on the food.
Of course, it wouldn't be a true Kardashian/Jenner holiday celebration without massive gift baskets for the kids.
It looks like this party was held at Kourtney Kardashian's house. Jenner's Snapchat showed that the backyard decorations came complete with a giant inflatable slide. Jenner posted videos of her sliding down with Penelope and Reign Disick while North West stood behind them and watched. Jordyn Woods was also at this Easter shindig, and although they didn't appear on Jenner's Snapchat story, it's safe to assume Kourtney and Kim Kardashian were there, seeing as their kids were. Mama Kris was of course there, but Khloé Kardashian spent this Easter in Cleveland, Ohio, where she's waiting for the birth of her daughter with Tristan Thompson.
Kylie Jenner has been pretty open about her life ever giving birth to Stormi in February, and these Easter posts make it look like she's planning on continuing that trend.
When she announced the birth of her daughter, Jenner apologized to fans for keeping them in the dark about her pregnancy for so long.
She said in an Instagram post on Sunday, Feb. 4,
I'm sorry for keeping you in the dark through all the assumptions. I understand you're used to me bringing you along on all my journeys. my pregnancy was one I chose not to do in front of the world. I knew for myself i needed to prepare for this role of a lifetime in the most positive, stress free, and healthy way i knew how.
Baby Stormi was born on Feb. 1, according to Jenner and Scott's announcement video titled "To Our Daughter." I don't know about you guys, but I love seeing all of these photos of Kylie Jenner, Travis Scott, and Stormi Webster together. Keep 'em coming, Kylie!