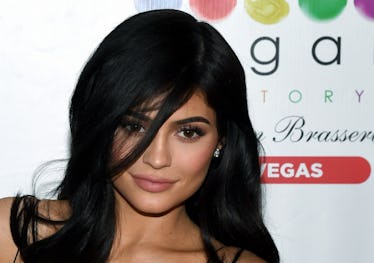 Kylie Jenner's Photos Of Stormi Webster's First Easter Are So, So Sweet
Ethan Miller/Getty Images Entertainment/Getty Images
The Kardashian-Jenner family are known for their over the top holiday parties, and Easter is clearly no exception. According to Kylie Jenner's photos of Stormi Webster's first Easter, it looks like Jenner and boo Travis Scott are taking full advantage of celebrating their first holiday as a family together. I am living for this sweetness.
On April 1, Scott made an appearance at the Kardashian-Jenner Easter festivities, where he lavished some love on his little girl, Stormi Webster. Photos that Jenner posted to Snapchat showed the daddy-daughter duo cuddling up, as Scott held his little girl on his knees and ducked down to give her kisses. The photos showed the two month old looking super stylish in a pretty pink Easter dress with a seriously enormous bow on the front, looking into her daddy's eyes as he covered her with kisses.
Another snapshot clearly showed the little girl's face, with her big dark eyes and tiny baby smile. Can we say "adorable?"
Other photos showed Scott alone, posing in front of a giant rabbit made of flowers, or Jenner and her girlfriends, including bestie Jordyn Woods, sipping some tasty looking cocktails. So, looks like a good party, is what I'm saying.
Since the two are so mysterious, I often end up wondering about Scott and Jenner's relationship. Lucky for me, a source told Entertainment Tonight that Jenner and Scott's relationship is going strong.
"Kylie and Travis are in a really good place," the source told Entertainment Tonight. "Travis is very hands-on, and knows it's also important to treat Kylie special."
Be still my heart.
It's nice to see Jenner and Scott spending some time together. Since the pair welcomed their daughter Stormi Webster into the world on Feb. 1, I'm sure the two have been busy adjusting to life as new parents. However, the source told Entertainment Tonight that Jenner and Scott try as much as possible to see each other and keep their relationship strong.
"Whenever the two get free time, they make it a priority to have date night," the source told Entertainment Tonight. "The Kardashian-Jenner clan loves watching Stormi whenever they get the chance."
Relationship goals.
While Travis Scott is known as an elusive enigma of hip hop, it looks like Kylie Jenner really brings out the romantic in him. After giving birth to Stormi, Scott sent Jenner 443 roses in honor of their daughter being born at 4:43 p.m. Cue swoon.
This is one of the first glimpses of the couple together since Travis Scott shared a Snapchat of him and Jenner on Feb. 15. The two aren't living together currently, which might be a reason why we see less of them compared to other Kardashian couples, but a source told People in Feb. that Jenner and Scott are really focusing on being involved parents.
"Kylie and Travis are not officially living together. He has his own place. They are co-parenting though, and things are going great," The source told People. "They are together and happy. They're not in rush. They're just enjoying their little family."
On Feb. 4, Kylie Jenner completely broke the internet when she announced via Instagram that she had given birth to Stormi Webster three days prior. In her announcement, Jenner explained the reason behind her secret pregnancy, saying that she wanted to enjoy the experience privately away from the public spotlight.
As if we weren't already completely shook over this news, Jenner then decided to throw another curveball at us and share a short video of her nine month journey. The clip features familiar faces including sisters Kim, Kendall, Kourtney, Khloé, and Kourtney, best friend Jordyn Woods, and of course Travis Scott.
Watch and weep.
We might not get Stormi Webster / Travis Scott pictures that often, but when we do, man are they cute.