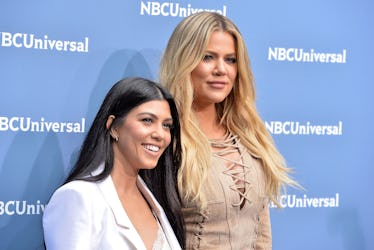 Khloé K Just Shared The Most "Obnoxious" Photo With Kourtney That Proves They're All Good
Slaven Vlasic/Getty Images Entertainment/Getty Images
Kardashian fans have been whipped into a panic with all of the sister drama going on in Season 15 of Keeping Up With The Kardashians. More specifically, Kourtney has been feuding with Kim and Khloé, making fans desperate to keep the band together. Though we know, like, intellectually, all of the interactions playing out on TV now happened months ago during filming, people are still keeping their eyes on the girls' social media feeds to see where they stand IRL. Based on this photo of Khloé and Kourtney Kardashian being "obnoxious" together, everything seems cool and the arguing must smooth out eventually in the upcoming episodes.
To bring you up to speed, Kourtney has been fraught with stress over how much her work pulls her away from her children. Her sisters Kim and Khloé are frustrated with her lack of commitment and focus during their scheduled time together (for filming or otherwise) and it's brought up a lot of sh*t for the oldest sister. Mainly, Kourtney feels her values are different than her sisters, causing her to say a lot of negative things about the family. For example, she calls them "disgusting" in one clip and toys with celebrating the holidays away from them in another. In the explosive season premiere, Kourtney and Kim go at it over scheduling differences for their family Christmas card, ultimately leading Kim to say Kourtney is "the least exciting" family member to look at. Whoops.
It's a lot, you guys.
In the most recent KUWTK teaser for Sunday, Aug. 26th's episode, Khloé discovers Kourtney and Kendall were talking about her behind her back, saying she's "acting out" because she is nervous about the impending changes in her life (re: a new baby). According to Khloé, Kourtney told her, "You're really scared about how your life is going to turn out." Khloé continues, "What are we going to do? It's hard for me to even be around her at this point... every time we talk about her I get more upset."
Trouble in Calabasas-paradise, ya feel me?
If seeing this teaser makes you nervous about the girls' relationship, fret not. Khloé just posted a picture on Instagram of herself giving a Kourtney a piggyback ride on the night of their little sister Kylie Jenner's 21st birthday. In the picture, the two look sooo happy and silly together, and Khloé's caption proves they're having a great time.
Yes, we are completely aware of how obnoxious we are when we are together. NO, WE DON'T CARE!!! Malika took a really cool pic!! 📸 thank you Mika @forevermalika
Obviously, they know what's going on in the current season, and I suspect Khloé shot this out so fans can relax. But, you better believe I'm tuning in on the 26th to see what happens next in this saga, anyway.
I wonder when and how the peace deal between the sisters will happen in season 15. Fingers crossed they don't leave this argument open as a massive cliff-hanger during the finale! Aye, aye, aye.