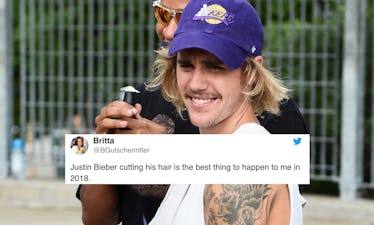 Justin Bieber Finally Cut His Hair Off, So Beliebers Are Celebrating
Theo Wargo/Getty Images Entertainment/Getty Images
Is there anything better than waking up to an unexpected gift you didn't know you were dying for? Or — even better — waking up to an unexpected gift you didn't know you were dying for from Justin Bieber. The "Sorry" singer finally, finally, finally, chopped his locks revealing a much fresher, streamlined look. No hate on the long hair game, but you've gotta wash it more if you're going to go for it, Biebs. Luckily, shampoo is no longer a problem here. The photo of Justin Bieber's new buzz cut is the long-awaited answer to fans prayers and taking me back in a good way.
As you, me, and everyone's mother knows, Bieber has spent the past few months running around as Hailey Baldwin's fiancé/maybe husband. Prior to that, the two embarked on what I will now refer to as The Summer of PDA, in which they enthusiastically made out literally everywhere without abandon. During this time, Bieber was obviously feeling particularly carefree and let his hair grow out. Of course, when Bieber first hit the scene as a wee babe, he was known for his luscious locks and flowing bangs. His older, long-haired look was... not that. This was something much different.
You see what I mean...
While I didn't sit down and think about it critically, I'm sure Beliebers were either purposefully or unknowingly sending up the same prayer for him to switch up his look at the same time. (Come on, with a jawline like that? You've gotta show it off!) Whether it was fans' prayers, Hailey's request, or Bieber's own self-awareness that pushed him to the barber, I don't care. Whatever or whoever it was, we're all very thankful.
On Tuesday, Oct. 30, Bieber posted a selfie to his Instagram story showing off a shaved head and playful smile. He chose a grainy, home movie filter to accompany his new look. There's a weird pair of scissors in front of him, but we all know the only tool that could get this job done is a straight up buzzer.
Fans rejoiced. Some joked he must have gotten tired of the Halloween-spoof costumes of himself out there. Others simply thanked whatever higher power that may have brought this change.
I wonder if Hailey is going to town rubbing it? That's not a weird thing to say out loud, is it?
To be very fair, this guy is a hairstyle chameleon. He's rocked short hair, long hair, bleached hair, gelled hair, and probably loads of other kinds of celebrity hairstyles that aren't accessible or obvious to the general public.
One rumor I'm happy to start circulating is maybe Bieber cut his hair because he has a big event coming up he needed to change his look for... like a wedding or something. Sure, sure, Bieber and Baldwin reportedly already tied the knot in a New York City courthouse, but we haven't seen pictures of her in a dress or anything, so I'm not giving up hope yet.
Justin if this is your "I do" look, I do, too.