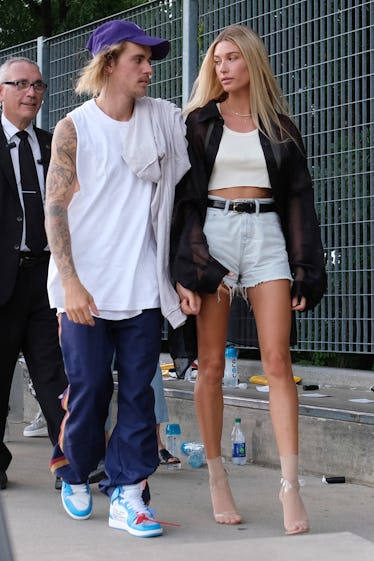 The Reported Reason Justin Bieber & Hailey Baldwin Say They're Not Married Makes Sense
Nicholas Hunt/Getty Images Entertainment/Getty Images
Justin Bieber and Hailey Baldwin are giving me whiplash. First, they reportedly get married in a courthouse, then they say they're not married, then they reportedly are married, but it apparently doesn't count. On Sept. 13, Bieber and Baldwin were seen leaving a New York City courthouse. Rumor had it that they got married there, but Baldwin denied the rumors. They apparently just got their marriage license that day. Now, according to TMZ, they reportedly did get married in that courthouse, but they don't consider their marriage official yet. And the reason Justin Bieber and Hailey Baldwin say they're not married is solely religious. God wasn't here, fam. Elite Daily reached out to Bieber and Baldwin's teams for comment on this report, but did not hear back by the time of publication.
According to an Instagram post from the Stratford Perth Museum in Ontario, Canada, which Bieber and Baldwin visited this past weekend (it has a Justin Bieber exhibit), Bieber is now referring to Baldwin as his wife. Now, this could just be a cute couple thing the two are doing. It's not unheard of for engaged couples to lovingly refer to each other as their spouses because, well, they're about to get married. So this could just be a pet name kind of thing until they actually get married.
On the other hand, it could mean they actually are married already and they're just throwing fans for a loop. According to TMZ, when Bieber and Baldwin got their marriage license in an NYC courthouse on Sept. 13, they reportedly simultaneously got a document that officially made them a married couple. Baldwin tweeted at the time that she understood the confusion surrounding their courthouse visit, but she wasn't married yet.
According to TMZ, Bieber and Baldwin reportedly don't consider themselves to be officially married because they haven't said their vows in a religious ceremony yet. So even if the rumors are true and they legally got married on Sept. 13, in their eyes, they won't be an official married couple until they get married in a traditional religious ceremony.
Fans know how much religion means to the Biebs.
He's made it clear throughout his career, but also in his Instagram post confirming he proposed to Baldwin. "I promise to lead our family with honor and integrity letting Jesus through his Holy Spirit guide us in everything we do and every decision we make," he said in part of his caption. He later added, "Gods timing really is literally perfect, we got engaged on the seventh day of the seventh month, the number seven is the number of spiritual perfection, it's true GOOGLE IT."
The Stratford Perth Museum's Instagram post about Bieber and Baldwin's visit said the singer was introducing Baldwin as his wife to people they spoke to.
The Instagram was a picture of a note Baldwin wrote on the wall of the Bieber exhibit that was covered with messages from his fans.
"'I ❤️you forever-Hailey B'. We were so pleased to have such a warm and special guest visit the museum yesterday (along with her very special husband)," the caption said. A comment the museum posted in response to a fan said, "Justin very graciously introduced Hailey as his wife." Elite Daily reached out to Bieber and Baldwin's teams for comment on this report, but did not hear back by the time of publication.
Whether or not these two legally got married in that NYC courthouse in September, and whether or not they already refer to each other as husband and wife, the Biebs and Baldwin are apparently still planning on having a traditional wedding ceremony where they can say their vows in a way that they feel makes it official. That day will reportedly be sometime in early 2019, according to TMZ, so hang tight, Beliebers.