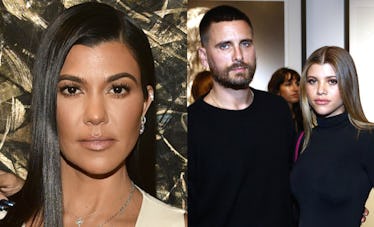 This Kourtney Kardashian & Sofia Richie Friendship Update May Mean They'll Never Be Close
Rodin Eckenroth/Tommaso Boddi/Getty Images
Kourtney Kardashian and Sofia Richie are on good enough terms, but don't expect them to be posting Instagrams together anytime soon. This Kourtney Kardashian and Sofia Richie friendship update, if true, makes things clear as to the status of Kardashian and Richie's relationship, and its possible extent. While it's true that their reported dynamic is a positive one now that Richie has proven she can be trusted with Scott Disick and Kardashian's three children, that doesn't mean Kardashian is aching to be buddy buddy with her ex's girlfriend. Elite Daily reached out to Kardashian and Richie's teams for comment on the report, but did not hear back by the time of publication.
A source told People that Kardashian and Richie have a respectful understanding of each other. Richie, who has been dating Scott Disick for over a year now, apparently understands the dynamic between her and Kardashian.
"She knows that Kourtney isn't her biggest fan and she understands that," the source told the outlet. "Sofia and Kourtney will never be best friends, but Sofia is happy that she has proved to Kourtney that she is great with her kids. Sofia is hoping that her relationship with Scott lasts."
The source continued, "There has been and will continue to be things with Scott's family life that bother Sofia, but she is trying to just deal without causing drama. She knows she will always be kind of the outsider, but she loves being around Scott and his kids."
Richie and Disick made their relationship Instagram official in September 2017 after months of rumors floating around about them. The confirmation of their romance came in the form of some PDA-packed Instagram stories posted to Disick's Instagram. They've been together ever since, going on a bunch of vacations both with and without Mason, Penelope, and Reign Disick.
Kardashian reportedly didn't like the relationship at all at first (it was a topic of discussion between Kris Jenner and Disick on Keeping Up With The Kardashians, and Kim Kardashian also expressed her opinions about it) but, over time, her opinion changed and she's reportedly now at a point where she trusts Richie with her kids.
Kardashian and Disick have been making their co-parenting relationship work for a while now. While they have their tense moments just like anybody else do, their dynamic, at least how it's been depicted on Keeping Up With The Kardashians and on social media, has remained positive.
But adding Richie to the mix has proven to be a tense matter.
Kardashian, Disick, and Richie all got together recently for dinner. This marked the first time that Kardashian and Disick were seen out in public together, and according to People, the dinner was all about Richie spending time with Kardashian and Disick's kids.
Back in November, a source told People that Kardashian "doesn't necessarily care to get to know Sofia better, but she feels she needs to because of the kids." Their Monday, Nov. 5, dinner date was all about Kardashian doing just that. You can check out photos of the three on their dinner date here.
The source said that the dinner was quick and business-like. "It seemed a bit tense," they said. "It wasn't like they are all friends and were hanging out for fun. It looked more like a business dinner."
Despite the reported tension, the dinner was still an important move for the three. "Sofia spends time with Kourtney's kids, so Kourtney wants to make sure they are all on the same page," the source told the outlet. "Scott and Sofia tend to get into arguments. Kourtney wants to make sure the kids are in a positive environment when they are at Scott's house. She is setting up rules for how things needs to be when the kids are with Scott."
The three went out together again (this time with more people) just a few weeks after that dinner date, so maybe that means the "tense" dinner was more positive than anything.
Kardashian and some of her friends attended a VIP opening of the ArtLife Gallery's Street Dreams on Friday, Nov. 16 — an event Disick and Richie also attended. The two groups reportedly did not arrive together and weren't seen doing much interacting during the event, according to E! News, but Kardashian and Richie never used to see each other at all, let alone hang out at the same party. And why would they, honestly? Kardashian is nearly 20 years Richie's senior, so they understandably always ran in different circles.
So it looks like things are overall casual and positive between Kardashian and Richie, but it's reportedly all for the kids and not out of any interest in being friends.