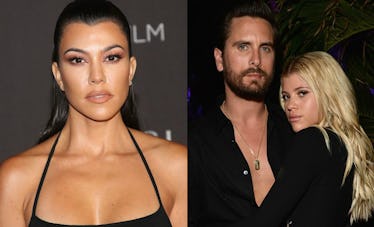 Kourtney K Had A Dinner Date With Scott Disick & Sofia Richie That Was Reportedly "Tense"
Kourtney K Had A Dinner Date With Scott Disick & Sofia Richie That Was Reportedly "Tense"
Is Kourtney Kardashian keeping an eye on her ex Scott Disick and his new love Sofia Richie? Well, if reports that all three enjoyed a "tense" dinner date are to be believed, then she might just be. In a recent report from People, a source revealed that Kourtney Kardashian's dinner date with Scott Disick and Sofia Richie wasn't exactly a friendly gathering. Not that Kardashian, Disick, and Richie were hashing it out over appetizers or anything. It just wasn't the kind of dinner date that made anyone believe Kardashian would be bosom buddies with Richie any time soon. Elite Daily reached out to Kardashian and Disick's teams regarding People's report, but did not hear back by the time of publication.
According to People, a source close to the situation revealed that Kardashian feels she owes it to her kids to get to know Richie a little better. Kardashian shares three kids with Disick: Mason, 8, Penelope, 6, and Reign, 3.
The source said that Kardashian "doesn't necessarily care to get to know Sofia better, but she feels she needs to because of the kids."
So, their dinner date, which happened on Monday, Nov. 5, was pretty much all business — at least for Kardashian it was. Radar Online posted photos of Kardashian, Disick, and Richie arriving at Nobu restaurant in Malibu, California. You can check them out here.
People's insider source also revealed that Kardashian's main concern is that when her kids are spending time with Disick and Richie, they're experiencing an environment that's loving and positive.
"Sofia spends time with Kourtney's kids, so Kourtney wants to make sure they are all on the same page," the source said. "Scott and Sofia tend to get into arguments. Kourtney wants to make sure the kids are in a positive environment when they are at Scott's house. She is setting up rules for how things needs to be when the kids are with Scott."
Well, that sounds like a very responsible thing to do! By now, pretty much everyone knows how much Kardashian loves being a mom, so it makes sense that the kids would be top of mind when trying to navigate a blended family situation like she's doing right now. As noble as Kardashian's intentions were, though, it doesn't seem like the dinner date forged any new friendships. According to People's source, it was more business-like than anything else.
"It was a quick dinner," the source said. "It seemed a bit tense. It wasn't like they are all friends and were hanging out for fun. It looked more like a business dinner."
Disick and Richie have been dating for more than a year. The couple became official in September 2017 and in the year since they started seeing each other, this is reportedly the first time Richie, Disick, and Kardashian have come together to have a conversation. If that's truly the case, then maybe that means things between Disick and Richie are getting even more serious. I guess everyone will have to wait and see!