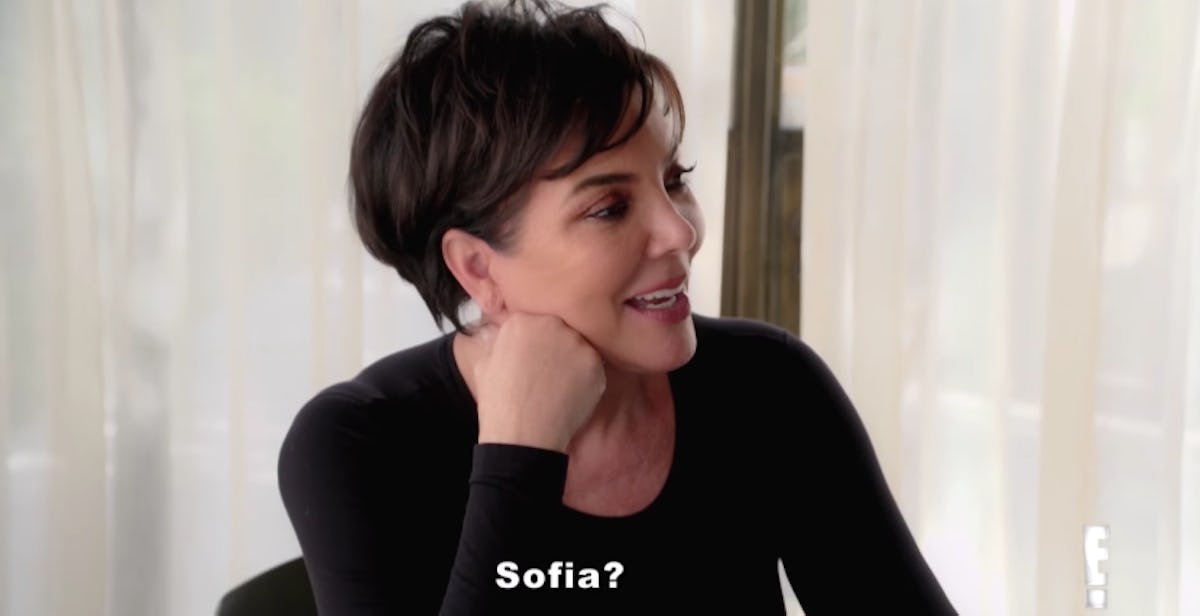 Kris Jenner Called Scott Disick Out For Dating Sofia Richie & The Video Is So Awkward
There's nothing quite like that awkward moment when your former girlfriend's mom confronts you for the very first time about your current girlfriend's age. I gotta give it up for Kris Jenner, though, because the 62-year-old momager is not afraid to ask the tough questions. In a video of Kris Jenner talking to Scott Disick for an upcoming episode of Keeping Up With The Karadshians, the mom-of-six straight-up grills Kourtney's 34-year-old ex to hilarious and cringeworthy effect about his relationship with 19-year-old Sofia Richie, who happens to be 15 years his junior. Not so quick with the math? Lemme help you out — that's a year younger than Kylie Jenner, you guys!
In the seriously uncomfortable preview clip, we get to see to see Scott cop to the fact that he's in now a relationship with Sofia Richie — daughter of Lionel, sister of Nicole — for the very first time. "What's going on, are you dating?" Kris asks him. Subtle, mama! And are those the kids voices I hear in the background? Because there is a time and a place for everything, and this convo should probably not have been taking place in front of Mason, Reign, and P. Just my two cents. Still, I am so glad we have this little chat on video, because the whole thing is just so intense. Watch:
Best line: "Are you going steady?" Because apparently, this is 1954.
Best moment: Scott out-shading Kris while she's attempting to shade him, Allow me to break it down for you:
Kris: "Wait, so how old is she? Because I really don't know. Is she Kylie's age? 20?"
Scott: "19"
Kris: "You're 34? OK, so I was 17, and Robert [Kardashian] was 12 years older."
Scott: "You were underage. She's not."
Oooh, burn! Shots fired, big time, baby! And good for you, Scott, because why did Kris even go there? Kourtney's current boyfriend Younes Bendjima is only 24, and the Kardashian matriarch herself has been dating 38-year-old Corey Gamble for what seems like forever, so this whole line of questioning was majorly hypocritical even before Scott brought up the late Robert Kardashian. Still, his comeback is hilariously ironic, and I could watch the whole thing go down on repeat all day. Because TBH, I have never loved these two more — except for maybe that time when Kris tried to school Lord Disick in the meaning of a bunch of Spanish words over dinner, using her, you know, "Mexican" heritage.
Of course, even back then, Scott had no problem calling the matriarch out, and he once again wound up having the last awesome word.
Hilarious! And it happened again during this chat on the phone in the car. This is what Kris said when she rang up Scott:
And this was his on-point response:
Amazing! You just know Kris is the type of mom who signs all her Facebook posts "Love, Kris." And P.S. — I think these two need their own spinoff show ASAP because I would totally watch it just for this type of epic banter.
Anyway, Scott Disick and Sofia Richie were first linked back in May 2017 at the Cannes Film Festival, but things seemed to get super serious around October when the pair hit up Venice, where they proceeded to PDA it up big time.
I'm still not sure if I'm on board with this relationship, but I'm excited to see how it plays out now that Scott has finally confirmed that it's a thing on the show. You can watch the full episode of Keeping Up With the Kardashians when it airs on Sunday, Feb. 11 at 9 p.m. on E!