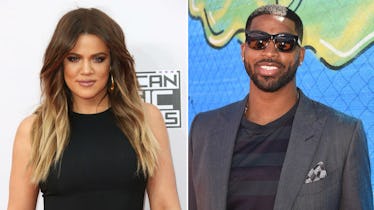 Khloe K Doesn't Think Tristan Thompson Gets "The Consequences" Of His Actions, Apparently
Frederick M. Brown/Kevin Winter/Getty Images Entertainment/Getty Images
When you make a mistake in your relationship, the best thing to do is to own up, apologize, and accept that your actions might have repercussions moving forward. Or, you know, you can try to ignore it or downplay it, which will probably end up blowing up in your face. Either option works! But it looks like the dramatic saga of Khloé Kardashian and Tristan Thompson's rumored cheating scandal is not ending anytime soon because Thompson has apparently decided to go with the latter of the two options. Eesh. And this Khloé Kardashian and Tristan Thompson relationship update shows that Khloé might not be as over the whole thing as we initially thought. Double eesh.
It's no secret that on April 10, word got out that Thompson, who was in New York City with his Cleveland Cavaliers teammates, was spotted seemingly kissing another woman who was not his pregnant girlfriend Khloé Kardashian. Elite Daily reached out previously to Kardashian and Thompson's teams regarding the cheating rumors but did not hear back by the time of publication.
The world was waiting to see if Khloé Kardashian would stay with Tristan Thompson after all of his alleged cheating came to light, and it looks like, through it all, she has managed to continue on with her relationship. But a new report from People suggests that Khloé doesn't feel that Thompson understands just how much of a ripple effect his actions have caused. A source told the site,
As a guy, he's naturally not as understanding as he can be in this particular situation. It's so much easier for him to, not completely, but brush things under the rug. She can't do that.
Elite Daily reached out to Kardashian and Thompson's teams for comment on the report, but did not hear back by the time of publication.
The source continued, reporting that Khloé feels that Thompson is taking the rumored cheating scandal too lightly, and doesn't understand the "consequences of his decisions." The source said,
Khloé carried his child and is much more in the limelight than he is, and she doesn't think he understands the consequences of his decisions. She thinks the cheating scandal is a way bigger deal than he does and he doesn't fully understand the repercussions of his actions affecting not only him and Khloé but the entire family as a whole.
You mean to tell me that Thompson thinks that his actions are deserving of just a little bit of scolding, and not a HEAPING DOSE of it?
Oh, honey, no. No, no, no.
The source also claims that Thompson isn't understanding of how much this affects Khloé, especially because in the past, her tumultuous relationship with ex-husband Lamar Odom had gone down a similar road. "It's been a tough learning lesson for him. The whole family had to deal with the public's perception of him and his relationship with Khloé changing dramatically," the source said. "He also doesn't fully 'get' that she's been through this before [with ex-husband Lamar Odom], except that this time there's a child involved."
So Tristan, if you're reading this: Wake up, dude. Get your act together.
You've got a little baby to love and care for and a gorgeous, ambitious woman as her mother, so clean up your act. If you don't, I have a feeling there will be a looot of angry Kardashian fans expressing the same sentiment, but with plenty more expletives involved.