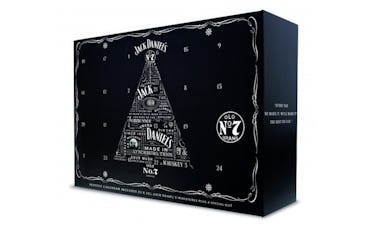 This Jack Daniel's Whiskey Advent Calendar Is Going To Be The Booziest Countdown Yet
Whiskey is my go-to booze, and it always has been. Whether I'm at a bar on a Friday night or celebrating a holiday of some sort, I usually have a whiskey ginger in my hand. (Seriously, ask any of my friends.) Thankfully, Jack Daniel's is making it possible to celebrate the holiday season with a variety of miniature whiskey bottles. That's right: Jack Daniel's Festive Whiskey Calendar will let whiskey fans (like myself) sip on their favorite spirit throughout the month of December. If you're excited pop some mini bottles around Christmastime, get your mixers ready and read on for details.
Before you line up your ginger ale and Coca-Cola in preparation for holiday cocktails, you should know where this advent calendar is available. According to Jack Daniel's website, the calendar is only available in the United Kingdom at ASDA and on the Jack Daniel's Store. So if you live across the pond, start planning your holiday countdown. You also might want to throw a party or two and invited your American friends over so they can celebrate the season with Jack Daniel's.
If you'd rather keep the countdown for yourself, go for it. However, Jack Daniel's wants you to drink responsibly.
Don't go looking for Jack Daniel's Festive Whiskey Calendar just yet, though. According to the company's website, the advent calendar won't be on sale until mid November 2018. Thankfully, that's only a few weeks away — so you won't have to wait too much longer. Elite Daily reached out to Jack Daniel's about a specific release date, but has not heard back by the time of publication.
Those of you who plan on buying the boozy countdown are probably curious about what's actually inside of it (the box itself leaves a lot to the imagination). Per Jack Daniel's product page, the calendar includes 23 miniature whiskey bottles. The selection includes Jack Daniel's Tennessee Honey (my personal favorite), Jack Daniel's Tennessee Whiskey, Jack Daniel's Gentleman Jack, Jack Daniel's Tennessee Fire, and Jack Daniel's Single Barrel. In other words, you'll be able to sip on your favorite whiskey every day in December — and that's sure to get you into the holiday spirit.
Side note: Adding whiskey to your hot chocolate will give your holiday favorite a boozy twist. (Trust me, I've done it.)
Since the holidays are all about giving, Jack Daniel's also included a special present behind one of the doors of its calendar. I'm not going to tell you which one — but if you're curious, read the product page on Jack Daniel's website. I will, however, tell you what the gift is. According to the company, a Jack Daniel's key ring hip flask is hiding inside the advent calendar. If you open the lucky door that holds the present, you'll be able to carry your whiskey around in style.
If whiskey isn't your thing (or you don't live in the UK), you have other boozy advent calendar options. For instance, you can break into this Wine Lovers' Advent Calendar and start popping bottles in December. Gin lovers, on the other hand, can crack into this Ginvent Calendar instead. Those of you who'd rather bypass the booze can open this Cheese Advent Calendar — because there's nothing like gourmet cheese around the holidays. Drink (or eat) responsibly!