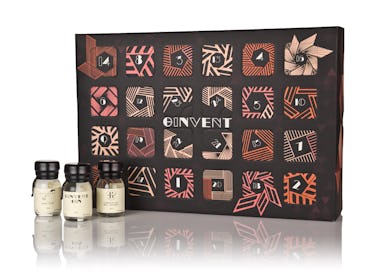 This Advent Calendar Is Full Of Gin To Really Put You Into The Holiday Spirit
Those of you eager to celebrate the Christmas season are probably searching for the perfect advent calendar. Believe it or not, there are a ton of options to choose from this year — and a majority of them don't include chocolate. In fact, some of them include booze (genius, I know). One of my favorite boozy advent calendars is the Ginvent Calendar by Gin Foundry. The alcoholic countdown is literally filled with tiny gin bottles that'll put you into the holiday spirit with every sip. If you're a gin lover, read on for more details about the product.
Let's start at the beginning. The Ginvent Calendar was originally created by Gin Foundry, a company that specializes in craft gin. According to a Ginvent Calendar press release for 2018, the company began the project six years ago when they realized there were no advent calendars that featured the spirit. After creating a makeshift gin-filled calendar for a bar in central London, people started requesting their own gin-filled advent calendars. Therefore, the company moved forward with the idea and created the Ginvent Calendar.
I'll cheers to that. There's nothing like counting down the days until Christmas with a cocktail in your hand, am I right?
This year's Ginvent Calendar features 24 "exciting" gins from the United Kingdom, including craft spirits and gins made by larger companies. In other words, you'll get to compare and contrast different types of gin as the countdown to Christmas continues. If you sip on one you really like, why not ask Santa Claus to bring you a full bottle for your stocking? I know I would.
I won't tell you exactly what gins are included in the Ginvent Calendar, but I will tell you about a few that Gin Kiosk highlighted on its product page. Apparently, there are four Navy Strength Gins included in the calendar — and one of them was reportedly voted best London Dry in the whole world. I'd be pretty excited to pop open an advent calendar door and find that spirit waiting for me. The calendar also includes fruit-infused gin, Old Tom, London Dry, and more.
Before you get too excited and start planning your December cocktail tastings, I have to break some news to you. The Ginvent Calendar can only be delivered to those of you living in the UK. If you're currently living across the pond or are planning on visiting for the holidays, you can order a Ginvent Calendar for £124.95 ($164.15). When you think about it, that's a pretty great deal for all of the gins you'll be able to try throughout the month.
If gin isn't exactly your thing, you can always opt for this Wine Lovers' Advent Calendar instead. The countdown box includes 24 quarter-bottles of wine, including both reds and whites. While you're at it, order this Cheese Advent Calendar — because what's wine without cheese?
Like I said, there are plenty of boozy advent calendars to choose from this holiday season. If you can't get your hands on a Ginvent Calendar, keep your eyes open for the next alcohol-filled countdown.