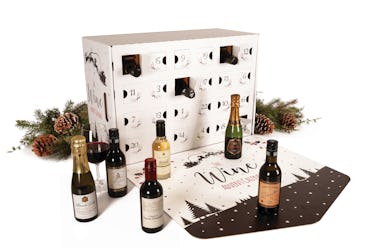 This Advent Calendar Gives You A Mini Wine Bottle Every Day Before Christmas
Direct Wines
Advent calendars have always been a fun (and wholesome) Christmas tradition. Growing up, I remember getting a different piece of chocolate for each day leading up to Dec. 25, and it was always a sweet surprise. But now that I'm over 21 years old, I have a whole new appreciation for advent calendars — specifically, this Wine Lovers' Advent Calendar. Instead of providing candy or cute sayings for each day of December, this calendar gives you a mini bottle of wine to pop in honor of the approaching holiday. Yup, I'll cheers to that.
As you know, the holiday season is full of celebrations — and this Wine Lovers' Advent Calendar will definitely get the party started. According to Direct Wines, the box includes 24 quarter-bottles of wine, which means you'll be able to take a sip of something different each day until Christmas. Not only will this help you get into the holiday spirit, but it'll also introduce you to a world of wines that you've never known before. Heck, if you try a mini bottle that you love, maybe you can ask Santa Claus to bring you a big bottle of it. That'll fit in your stocking, right?
Now, you're probably wondering what kind of wines are behind each closed door of the calendar. If I told you, I'd be ruining the surprise — but I can tell you a little bit about the variety. Thankfully, there's something for everyone. According to Direct Wines, you can expect barrel-aged Chardonnay, gold medal-winning champagne, vintage Bordeaux, and more. Whether you like reds, whites, or sparkling wine, this advent calendar has you covered.
I don't know about you, but I might to need to use will power for this one. It's definitely gonna be hard to only drink one mini bottle per day, but I will resist the urge to open multiple windows at once.
If you're into the idea of trying a different type of wine each day until Dec. 25, you can go ahead and order the calendar. Thankfully, there are multiple websites you can buy it from. According to Direct Wines, you can purchase the Wine Lovers' Advent Calendar at WSJWines.com, Macy's Wine Cellar, or Laithwaite's Wine — so take your pick.
Before you make the purchase, you should probably know how much the calendar costs. The entire product will set you back $129.99, which is a pretty good deal, considering the amount of wine you'll be getting. Plus, the "surprise" factor is pretty much priceless — especially when different types of wine are involved.
Don't wait too long to buy it, though — because you're going to want to have it when December begins. According to Direct Wines, you should order the calendar by Nov. 19 in order to have it by Dec. 1. If you end up procrastinating and getting the calendar a few days late, you can always grab a buddy and pop a few mini bottles to make up for lost time. (I'd suggest ordering it early, though.)
Either way, have fun celebrating the holiday season with this advent calendar — and drink responsibly.