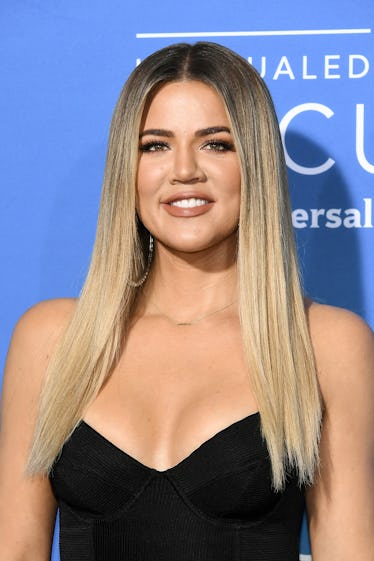 This Clue From Khloé Kardashian Could Reveal Her Plans After All The Cheating Rumors
Dia Dipasupil/Getty Images Entertainment/Getty Images
Another day, another Kardashian drama-filled saga. It's been quite a wild ride for fans of the Kardashian family — Khloé in particular — ever since April 10, when reports of Tristan Thompson's cheating started to unravel. I wish I could say that things got better but, as you all probably know, things got much, much worse. Then, as we were in the middle of the storm finding out all of this information about Thompson's reported affairs, Khloé went into labor, and on Thursday, April 12, welcomed her daughter into the world. The world rejoiced... but then also begged Khloé to re-think staying in Cleveland, Ohio. And now, this purchase might be proof that Khloé Kardashian is moving back to L.A., and I am totally here for it.
According to TMZ, Kardashian just dropped $4,000 on travel items for her new baby. Sources say that she bought about 20 items from a boutique baby store, including a "BabyZen Yoyo Travel Stroller, a Medela Pump On-The-Go Station, and a Storksak Travel Diaper Bag" amongst several other things.
I just want to point out that I don't think in my near three decades of existing on this earth that I have ever casually dropped even $100 on anything travel-related. That baby is one lucky girl.
And, while spending thousands on traveling supplies might just mean that Kardashian's little lady will be jet-setting back and forth from Cleveland to L.A., many are hoping that a permanent move back to California is the real reason for these expensive purchases. Fans are praying that Kardashian will simply GTFO of Ohio, for obvious reasons.
Back on April 3, Kardashian shared a message to her app that told fans the reason why she'd be moving. She wrote,
Throughout my pregnancy, I traveled back and forth between L.A. and Cleveland quite a bit, but after a while, it was a little difficult. It was more tiring and my body got swollen, which never used to happen before pregnancy. I obviously love both cities, but I will say I'm happy to be in Cleveland right now.
She continued, saying,
...I'm with Tristan and I get my home time — cooking, being with my love, and just more of a routine. In L.A., I'm SWAMPED with work. But then again, I love being in L.A. because I get to see my sisters and my mom, and I have my trainer and the people that I've grown up with. So there are perks to both cities for me!
So, if you're still questioning why Kardashian would now uproot her and her daughter from Cleveland, just remember that Tristan Thompson reportedly cheated on Kardashian with at least five different women (that we know of, anyway), and many of his affairs were leaked in surveillance photos and videos. Thompson and Kardashian have stayed silent on the reports. Elite Daily reached out to Kardashian and Thompson's teams regarding the reports but did not hear back by the time of publication.
Fans took to Twitter to tell Khloé two things: A) Congratulations on your new addition; and B) Don't walk, run and never look back.
Just days after giving birth, a new report said that Khloé Kardashian is planning her move back to Los Angeles. An inside source told People,
The goal is to get Khloé out of there as fast as they can without jeopardizing the safety of the baby after she's arrived ... Khloé just wants to be home.
Can you even blame her? Imagine moving away from everything you knew and loved, only to have the rug pulled out from under you by the man you love. I'm impressed that Kardashian allowed Thompson to be in the delivery room with her as she went into labor.
The insider also told People that even though Thompson still had practice for the Cleveland Cavaliers, he "will spend as much time at the hospital as possible." The source added, "Everyone is focused on what's best for their baby girl. Khloé is being the bigger person and letting Tristan bond with their baby."
So, whether or not Kardashian will be moving back to home to L.A. with her daughter, I'm sure she'll be doing whatever is best for her child.