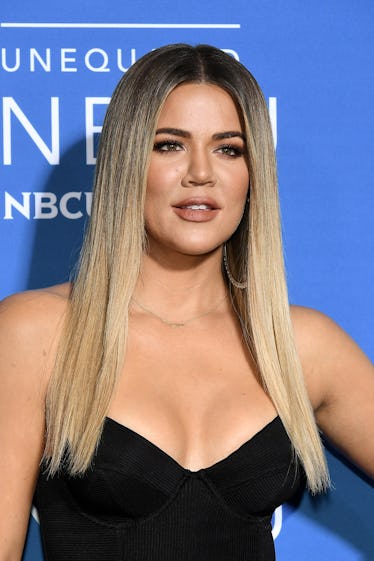 Fans Are Wondering Where Khloé K Will Raise Her Daughter After Tristan Thompson Drama
Dia Dipasupil/Getty Images Entertainment/Getty Images
Khloé Kardashian is a mama! TMZ reports the reality star welcomed her first child, a baby girl, with NBA player Tristan Thompson on April 12. While the baby's name has not been revealed yet, fans are already in love with the youngest addition to the Kardashian family. With Thompson living in Ohio for work and Kardashian living in California, however, where will Khloé Kardashian raise her baby? It's a fair question to ask, seeing as the couple has split their time living back and forth between Ohio and California ever since they got together.
But now, things might be changing, as reports that Tristan Thompson cheated on Khloé Kardashian went viral on April 10. The Daily Mail released a video that appears to show Thompson talking with another woman in an NYC club from that weekend, and The Daily Mail claims Thompson and the woman kiss in the video. A subsequent video from TMZ also claims to show Thompson kissing another woman in a hookah bar from November 2017. Elite Daily reached out to Kardashian and Thompson's teams for comment on both reports but did not hear back by the time of publication.
The baby was reportedly born in Cleveland, as Kardashian shacked up there as she neared her due date. Kardashian once said in an interview with Steve Harvey back in September of 2017 that she adores Ohio. "I do really love Cleveland, I really enjoy it," she said adding that spending her time between L.A. and Cleveland is like living "the best of both worlds." Does that mean she's ready to leave her family behind and head out to Ohio permanently? At this point, it's hard to say. Especially considering the fate of Kardashian and Thompson's relationship could be up in the air, if the rumors of his cheating are true. Fans are also hoping Kardashian will get back on the first plane she can to return to Los Angeles to be with her family and raise her daughter there.
The caption read,
My greatest dream realized! We are having a baby! I had been waiting and wondering but God had a plan all along. He knew what He was doing. I simply had to trust in Him and be patient. I still at times can't believe that our love created life! Tristan, thank you for loving me the way that you do! Thank you for treating me like a Queen! Thank you for making me feel beautiful at all stages! Tristan, most of all, Thank you for making me a MOMMY!!! You have made this experience even more magical than I could have envisioned! I will never forget how wonderful you've been to me during this time! Thank you for making me so happy my love! Thank you to everyone for the love and positive vibes! I know we've been keeping this quite but we wanted to enjoy this between our family and close friends as long as we could privately. To enjoy our first precious moments just us Thank you all for understanding. I am so thankful, excited, nervous, eager, overjoyed and scared all in one! But it's the best bundle of feelings I've ever felt in my life!
We learned the baby was a girl on the season finale of Keeping Up With The Kardashians on Sunday, March 4.
In the episode, Kylie Jenner revealed the sex of Kardashian's baby to her over the phone. Kim Kardashian was in the room with Khloé when she learned she was expecting a girl, and Khloé was shocked that her gut was wrong. So shocked, she thought Jenner was messing with her at first. "You're lying! Shut up ... I don't feel like I'm having a girl," Kardashian said. "I don't feel like I'm having a girl at all. I'm like in a state of shock."
And now, their baby girl is here! Time flies, fam.