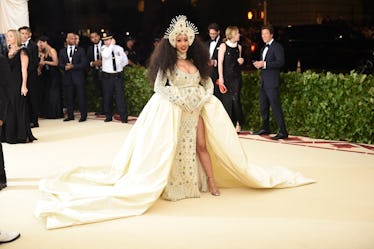 Cardi B May Have Given A Huge Clue About The Sex Of Her Baby & OMG
Jason Kempin/Getty Images Entertainment/Getty Images
I'm not trying to start rumors or anything, but it definitely, certainly, sure does sound like Cardi B is going to have a little baby girl. The "Bodak Yellow" queen of rap is having a ~*moment,*~ ya'll. She is taking over the music charts, getting married, stepping out at her first Met Gala, and having a baby, and now fans think they know the gender. This clue Cardi B is having a girl comes straight from the rapper's mouth, and I am freaking pumped about it.
Let's be real. Cardi B slayed the Met Gala red carpet. Her bedazzled dress and cape showcased her baby bump like whoa, and the mama-to-be was nothing but smiles. During an excitable interview, she let some key details slip about her baby, including the word "she." It doesn't take an AP English student to put two and two together. (That's the saying, right?)
Cardi B got ready for the Gala in her hotel room with the designer of her dress, Moschino, and The New York Times, who heavily documented her red carpet prep. Cardi was talking about the weight of her gown (30 pounds of beads, gems, and satin, by the way...) plus the added weight of her growing baby. This is where she may have slipped up. Cardi B told The Times, the dress is "extremely heavy. The beading is just crazy, and then," as she cradled her belly, she said, "shorty weighs three and a half pounds. She do. She do weigh three and a half pounds. That's pretty good for seven months, right? Because I was born five pounds."
And then later on the red carpet during an interview with Entertainment Tonight, the baby started kicking prompting Cardi B to say, "Oh, she wants to fight me! [My dress weighs] about 35 pounds plus baby. It's okay though, I used to go up the project stairs."
Hi. Yes. Hello. Cardi B definitely called her baby "she."
And let's be real, this isn't the first time someone used that specific pronoun. Cardi B's sister, Hennessy, was the first to drop a baby girl rumor with a very specific Instagram post. After Cardi B's baby announcement on Saturday Night Live, Hennessy shared an emotional post on her account. According to Us Weekly, her original post said,
A baby is truly a blessing from god I know how much you always wanted to be a mom! You always been Like a second mom to me so I know u gonna be the best mommy everrrr. you took care of me like i was ur own daughter I know how much you LOVE babies. Growing up, you would always break me off a piece of your plate without me asking... to our little brother you give him whatever he imagines .... every time I use to see your adorable baby pictures , I use to wish I was older than you just so I wouldve gotten the chance to carry you and give you kisses when you were a baby because you were so cute and adorable! and NOW that ur baby is coming its like it's coming true! I'm going to be able to hold ur baby and give her all the kisses and hugs! your pregnancy is mines we pregnant can't believe we're having a baby! hehehehe and to my brother @offsetyrn@iamcardib Auntie hennny aowwwww 💁🏾‍♀
Allegedly, the post was later edited to say, "I'm going to be able to hold ur baby and give the baby all the kisses and hugs!"
Look, whatever. Cat's probably out of the bag. Gender's probably out of the rapper's mouth. It doesn't matter. I'd be excited if Cardi B gave birth to a wad of cash.
Congratulations, mama! You looked heavenly at the Gala.
Check out the entire Gen Why series and other videos on Facebook and the Bustle app across Apple TV, Roku, and Amazon Fire TV.