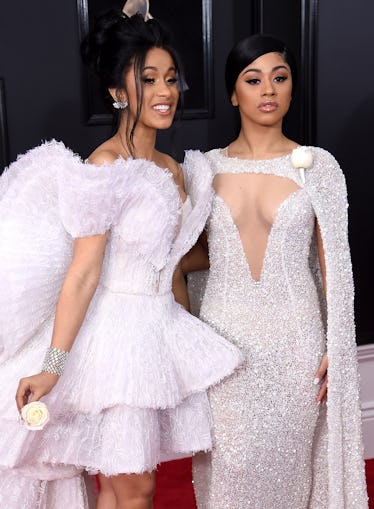 Fans Think Cardi B's Sister Just Revealed The Sex Of Her Baby With This Clue
Dimitrios Kambouris/Getty Images Entertainment/Getty Images
Cardi B is going to be a mama! The rapper confirmed her pregnancy in a reveal on Saturday Night Live on Saturday, April 7. Her sister, Hennessy, posted to Instagram to congratulate her sister and Offset on Monday, April 9, but she might've accidentally revealed the sex of Cardi's baby while doing it. Is Cardi B having a girl? Hennessy's original caption hints she is, but she has since edited it. Elite Daily reached out to Cardi B's team for comment, but did not hear back by the time of publication.
Hennessy's Instagram post about Cardi B's pregnancy is the sweetest thing ever. She posted a photo of Cardi performing on SNL and said,
A baby is truly a blessing from god I know how much you always wanted to be a mom! You always been Like a second mom to me so I know u gonna be the best mommy everrrr. you took care of me like i was ur own daughter I know how much you LOVE babies. Growing up, you would always break me off a piece of your plate without me asking... to our little brother you give him whatever he imagines .... every time I use to see your adorable baby pictures , I use to wish I was older than you just so I wouldve gotten the chance to carry you and give you kisses when you were a baby because you were so cute and adorable! and NOW that ur baby is coming its like it's coming true!
And this is where the possible gender reveal came in. According to Us Weekly, Hennessy's original caption said, "I'm going to be able to hold ur baby and give her all the kisses and hugs." Her! Was this Cardi's sister just taking a random guess at the sex, or do they know the sex already and she accidentally revealed it?! She later reportedly edited the caption to say, "I'm going to be able to hold ur baby and give the baby all the kisses and hugs!" Smooth save, Hennessy.
Fans in the comment section noticed the possible sex reveal before Hennessy reportedly changed it though, and now they're convinced Cardi B and Offset are having a girl.
Fans in the comment section of the post are saying things like, "She first typed HER instead of THE BABY I have proof," "She edited the post. She says 'give HER all the kisses,'" and "It's A GIRL," so Hennessy may have changed her caption quickly after posting it, but it apparently wasn't quick enough. The line that says "you took care of me like I was your own daughter" could be telling as well. Of course, fans won't know for sure if Hennessy's original caption was true unless Cardi B confirms it herself, but the internet thinks it has receipts now, so this rumor mill might be unstoppable.
In an interview with radio station Hot97 on April 9, Cardi talked about her pregnancy and might've accidentally revealed the sex of the baby too.
When asked if she successfully covered up her baby bump in a performance last week, she said "She was..." before stopping herself.
Fans think this was Cardi accidentally confirming she's having a girl. They even brought up Hennessy's Instagram caption.
Fans won't know for sure until she confirms or denies the speculation.
Cardi B got real about why she kept her pregnancy a secret on her Instagram story after she announced the happy news.
Social media was all abuzz after Cardi's announcement, and with that buzz, there are always some trolls to ruin the mood. In a post to her story that Cardi reportedly deleted, she responded to the negative comments about her, saying, "This is why I did not wanted to say nothing. People be so thirsty to scrutinize and try to destroy something that [is supposed to] be a blessing."
But she seems more determined than ever to not care about internet trolls.
She tweeted on April 8 after confirming her pregnancy on SNL, "I started winning when the whole world was doubting on me! Think imma lose with my little baby counting on me?" Whatever the sex of her baby, it's safe to bet Cardi B is going to be the most entertaining mom ever. Congrats to Cardi B and Offset!