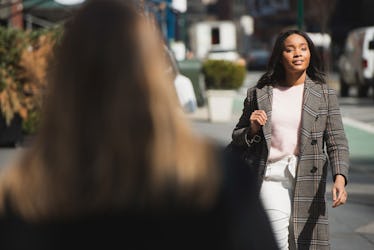 8 CEOs Offer Smart Tips For Bouncing Back After Serious Heartbreak
Ever read or watch the perfect comeback and say, "Ooh, I wish I'd thought of that?" Back in 2012, Lauren Conrad —The Hills alum, fashion trailblazer, novelist, and millennial Martha Stewart — was a guest on SiriusXM's Sway in the Morning. When she asked what her "favorite position" was, Conrad cheerfully responded, "CEO." If you're currently going through a breakup, Conrad is the boss b*tch energy you need to take into 2019. Sometimes, a devil-may-care attitude toward f*ckboys or pushing yourself to learn something new is the perfect antidote, according to breakup advice from CEOs. A study published in the Journal of Personal Relationships found that your life is bound to improve in five different ways (on average) in the wake of a breakup.
So, while it may be hard to fathom right now, there will be something sparkling and good for you on the other side of a breakup. That something can simply be a healed heart. Or the ability to start dating again with a positive mindset and realistic romantic expectations set. Sometimes, breakups bring the kind of life glow-ups that have nothing to do with love and relationships at all: increased confidence, a stronger sense of independence, and reconnection with your family and friends. Your life improvement post-breakup can even be a surprising but rewarding detour on the career path ahead of you. Here are eight CEOs with advice on how to proceed post-breakup.