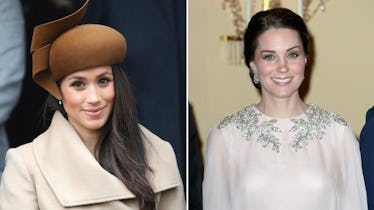 These Wedding Shoes By Kate Middleton's Fave Designers Are Perfect For Meghan Markle
Chris Jackson/Getty Images Entertainment/Getty Images
Imagine two of your all-time favorite designers. Now, imagine you're Kate Middleton. Guess what? Your dreams have just come true! OK, sorry, but you're not Kate Middleton but her two fave fashion designers, L.K. Bennett and Jenny Packham are collaborating to create a bridal shoe line and it is glorious. And what a convenient time, is it not? You guys, these wedding shoes made by Kate Middleton's designers are perfect for Meghan Markle's royal wedding.
According to People, Jenny Packham was pleased to work with L.K. Bennett to create a collection for brides that was a blend of both designers. She said,
There is a strong synergy between the L.K.Bennett woman and the Jenny Packham bride, so it seemed natural and very exciting for me to collaborate with their design team ... A project of passion, the combination of the Jenny Packham aesthetic with the renowned design heritage and quality of L.K.Bennett has resulted in a beautiful collection of shoes and bags of which I am very proud.
Oh, I didn't tell you? The designers are not only blessing us with a bridal shoe line, but a line of bags as well. Ahem, Meghan Markle: In case you were in the market for some bridal apparel, maybe it's worth checking out, because these pieces are beyond gorgeous.
In case you weren't aware, Jenny Packham is the designer behind some of Kate Middleton's most beautiful outfits.
You know, like this sequined stunner:
And this silvery sheathed gown:
And this emerald dress, where Kate is looking like a damn dream:
And you know those enviable patent pumps that Kate Middleton always wears? Yep, those are from designer L.K. Bennett. So you can see why this collab is basically going to be what royal dreams are made of, yes?
So, with Meghan Markle's wedding to Prince Harry coming up this May, perhaps she could take some pages out of Kate's book and go for a bridal shoe or bag from this collection, because the looks are undoubtedly going to be classic and timeless, aka fit for a princess.
According to Women's Wear Daily, the line, which will be launched Feb. 7, "consists of 16 footwear and 5 clutch styles, is inspired by old Hollywood icons such as Vivien Leigh and Bette Davis, and aims to recreate the decorative style of the Thirties for modern brides."
You hear that, world? Old Hollywood inspired, and paying homage to iconic actresses like Vivien Leigh and Bette Davis. Would that not be absolutely perfect for someone like Markle, who's a modern-day actress?
Here's a lil' sneak peek at the collection:
Oh hello, just swooning over here.
So, will Markle choose some accessories from the L.K. Bennett and Jenny Packham collection?
While we don't know for sure what designers Markle will choose for her wedding, we do know that Markle has already broken some royal wedding traditions (like choosing a Maid of Honor), so we might not see her in such a classical and traditional style.
But if you have already fallen in love with the collection (my hand is RAISED, people), then you can snag yourself some pieces from the line, since prices range from a pretty affordable 195 pounds (which is about $270 for us American folk) to a bit pricier 495 pounds (almost $700, yikes).
Regardless of what Meghan Markle chooses to wear for her wedding, I can pretty much guarantee that she'll be making heads turn with her bridal ensemble, whether or not she uses any pieces from this collaboration.
And hey, maybe some other royal lady will decide to choose some accessories from this line. Yep, we're looking at you, Princess Eugenie. No pressure.