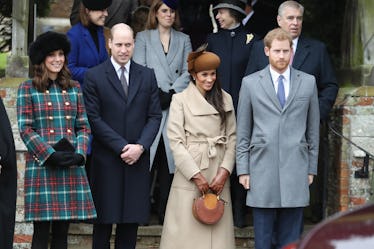 Meghan Markle & Kate Middleton's Similarities Will Make You Love Them Even More
Chris Jackson/Getty Images Entertainment/Getty Images
They royal family gets me seriously hyped. While it's hard to top the elegance and grace of Kate Middleton, Meghan Markle is already fitting in splendidly. The world was pleasantly surprised when Harry and Markle announced their engagement. Besides being American, Markle is also an actress on Suits and divorced — an overall surprising backstory for a royal-to-be. Middleton and Markle both joined (and will join) the royal family through marriage, and the two women also share a lot of other similarities. Although the future sister-in-laws both have their own distinct personalities, the similarities between Meghan Markle and Kate Middleton prove they actually have a lot in common.
There's no denying Markle and Middleton's inherent differences. Middleton is very straight-laced in the way that she keeps with royal tradition to a tee. On the other hand, Markle is not afraid to shake things up a bit — like going to the family's Christmas celebration before being married or having an extremely short engagement.
According to body language expert, Susan Constantine, Markle is still finding her place within the family, but there doesn't seem to be any strain between the future in-laws. Constantine explained a few essential details using photos of the royals and exposed some enlightening things.
Constantine said about the photo above,
Well, first of all, I don't think there is any strain. I think that Meghan feels much more uncomfortable than Kate does.
She continued by saying Middleton doesn't show any signs of being uncomfortable around Markle. Even though Markle's body language reveals a sense of uncertainty, Constantine "[doesn't] think that she feels competitive with Kate." She explained,
She's just got this internal dialog going that's going inside of her head that this is something surreal for her. It's almost like she's in the play, but also watching the play at the same time.
Markle seems smart, friendly, and like an overall nice person — I'm sure she'll fit in fine over time. Middleton and Markle actually share a lot more in common than you would think at first glance. Below are seven undeniable similarities between the two.
1. Unbelievable Style
Whether it's a trench coat or elegant hat, these ladies know how to dress. While the two have noticeable differences in their own style, there has definitely been some overlap already.
I mean, the two always look perfect, so it's no surprise some of their outfits look similar. At the end of the day, style is style. Honestly, I'm just excited for another royal to emulate my look after. I'm watching you, Meghan.
2. Well-Educated Women
William and Harry know how to pick 'em — both Middleton and Markle are intelligent women. Middleton and Prince William famously met at University of St. Andrews, a Scottish college that is known to be extremely competitive. According to their website, their acceptance rate for 2016-2017 was a little over 8 percent. Woof.
As for Markle, she's no slouch when it comes to academia and attended Northwestern University in Illinois. The future royal was a self-proclaimed "theater nerd" and a member of Kappa Kappa Gamma sorority.
3. Philanthropists
Markle does a lot for people around the world, specifically women. Markle has served as an ambassador to the UN for many years. Besides her work with the United Nations, Markle is also the global ambassador for World Vision and a counselor for One Young World, a charity that is based in her new home of the United Kingdom, according to CNBC.
As part of her royal duties, Middleton is always out working with different charities. According to PopSugar, some of Middleton's favorite charities include Action on Addiction, East Anglia Children's Hospices, and Sportsaid.
4. Athletic
Middleton and Markle both like to keep active. Do I sense some future sister-in-law workouts? YES I DO. Even when Middleton is in dress clothes, she's not afraid to bump a volleyball around.
Markle is also a workout junkie, and very publicly shows off her love of yoga. This is definitely something the two can bond over.
5. Sisters In The Spotlight
One of the biggest things to come from Middleton and Prince William's wedding was the media sensation around Middleton's sister, Pippa. The maid of honor became an instant celebrity overnight and the momentum has lasted. Most of us still can't get enough of Pippa.
Markle's half-sister, Samantha, is also paving a name for herself through different means — stating her opinion about the royal engagement to whomever will listen. During an interview with Radio 4 Today, Prince Harry had this to say about their family Christmas celebration,
There's always that family part of Christmas [where] there's always that work element there as well, and I think together we had an amazing time. We had great fun staying with my brother and sister-in-law and running round with the kids. Christmas was fantastic ... She's done an absolutely amazing job, she's getting in there and it's the family that I suppose she's never had.
Samantha clapped back at this comment on Twitter and said,
Actually she has a large family who were always there with her and for her. Our household was very normal and when dad and Doria divorced, we all made it so it was like she had two houses. No one was estranged, she was just too busy. Read my book complete with facts and photos
The book Samantha is referring to is still being written, but the working title is The Diary of Princess Pushy's Sister — to give you an idea of the tone of the book. She continued in a different tweet,
Meg's family (our family) is complete with sister, brother, aunts, uncles, cousins, and the glue of our family, our amazing completely self-sacrificing father. She always had this family... Marrying merely extends it.
Although Middleton and Markle's sisters are in the spotlight for different reasons, both women probably understand having Twitter entranced by their sibling.
6. Amazing Hair
A lot of people have amazing hair, but something about Middleton and Markle's hair stands out. How do they both get their hair so bouncy and shiny? Is it a royal secret? PLEASE SHARE, LADIES.
Whatever they're doing, it's working. Clearly, their lush locks are a secret among future sister-in-laws.
7. Totally Relatable
Overall, Middleton and Markle both seem like normal women who just happened to have fallen in love with princes — some people have all the luck. The women make fabulous role models, and I'm sure will be happy to have each other to lean on in the royal family. I can't wait to see Middleton and Markle on more outings together.
Check out the entire Gen Why series and other videos on Facebook and the Bustle app across Apple TV, Roku, and Amazon Fire TV.