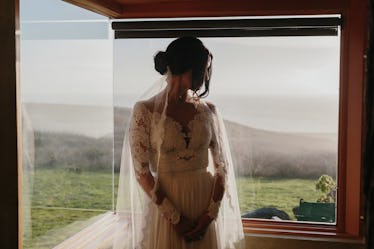 8 Bridesmaids Reveal The Most Intense Wedding Drama They've Seen
At their best, weddings can be a joyous celebration of love and family. You get all dressed up, dance to oldies with your dad, and watch two star-crossed lovers commit themselves to each other for all of eternity. Of course, sometimes behind the color-coordinated floral arrangements and triple-layer lemon cakes, you can find a few serious wedding drama stories. Whether the bride's mother stole the dress the day before the ceremony or the childhood tension lingered well into the bachelorette party — when it comes to knowing the most intense wedding drama, no one has more tea to spill than a bridesmaid.
Being in a wedding party can be a big responsibility. From planning showers and parties to footing some serious bills, being a bridesmaid can be a major commitment of its own. Though supporting a bride when they tie the knot can be a super special and memorial experience, sometimes being a bridesmaid can get a little stressful. Whether you have dealt with your own wedding drama or you've watched someone else's from afar, these stories about pre-nuptial tension are totally relatable.
These eight stories about wedding drama from bridesmaids are so intense, you'll feel old, new, borrowed, and blue.