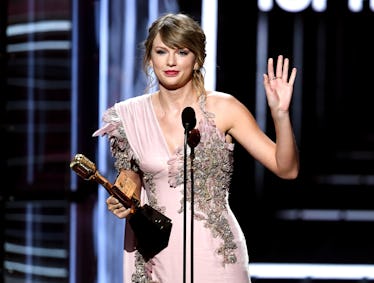 Taylor Swift Said She Felt "Misunderstood" At The BBMAs & Twitter Dragged Her For It
Kevin Winter/Getty Images Entertainment/Getty Images
Sunday, May 20 was a great night for a lot of artists at the MGM Grand. But while some of the music industry's biggest names were met with praise for their remarks during the awards show, these tweets about Taylor Swift's 2018 Billboard Music Awards speech suggest that not everyone was on board with what the artist had to say. Swift's words came after she won the Billboard award for top selling album for her 2017 release, Reputation.
During her acceptance speech, Swift said,
When I started writing songs when I was 12, I started writing songs because it made me feel more understood. When I was making Reputation, this album, for a while there, I felt really, really misunderstood by a lot of people. So I just want to say to the fans, thank you for continuing to show up. We just started our tour last week, and the ways that you have cared about me and the ways that you've treated me have, just — thank you for making me feel understood again. I love you so much to the fans, you're incredible.
Earlier in the evening, Swift also took home the trophy for top female artist. It's been a big year for the artist, with her hit "Look What You Made Me Do" topping the charts. Reputation sold over two million copies in the U.S., according to Billboard, the only album released in the last two years to hit that milestone.
On Twitter, Swift had her fair share of support.
But the singer/songwriter also got some shade for her remarks on Sunday night, all having to do with her album and her public comments. Reputation made some not-so-subtle references to a long-standing feud she's had with power couple Kim Kardashian and Kanye West. For background, West made a reference to Swift in his 2016 song "Famous," and claimed that he'd asked for her permission beforehand for the references, which used the word "b*tch." Swift contended she was never consulted, and Kim, in response, posted a secret recording of the phone conversation between Swift and West discussing the lyrics. The not-so-hidden suggestion: that Swift was lying. Things only got worse when Kim tweeted about national snake day, making a clear reference to Tay.
The speech on Sunday about being "misunderstood" came with a dose of irony, given that the public drama between the two artists began at another awards show, when West stole the mic from Swift during her acceptance speech at the VMAs in 2009.
"I find Taylor Swift's narrative of being 'misunderstood' ridiculous," tweeted one user. "Why? Because you as an overprivileged celeb are ticked off you got called out by another overprivileged celeb? Please girl. Good for you and your hard work but GIVE UP THE VICTIM ROLE SWEETIE."
Swift's speech wasn't the only thing at the 2018 BBMAs to get people talking about the pop star's feuds. There was also speculation that Demi Lovato was casting shade at Swift while she was accepting her earlier award, although it could've just been a simple case of RBF.
The opening speech of the night set the bar high when the host, Kelly Clarkson, started off the evening breaking into tears while discussing the shooting that took place at Santa Fe High School in Texas on Friday. Janet Jackson, for her part, after an unforgettable performance, cited the #MeToo movement in her acceptance speech.
Swift's controversial time in the spotlight was one of too many highlights to count on Sunday night. She was joined by a night full of incredible performances — among them a nod to Swift during Clarkson's medley of songs — by Dua Lipa, Camila Cabello, Khalid, BTS, Ariana Grande, Janet Jackson, and John Legend, to name a few. So the backlash about Swift feeling "misunderstood" might just catch a break and blow over amidst the other noteworthy moments of the night.