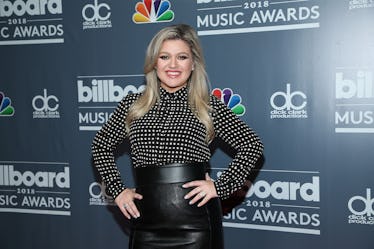 Twitter Is Rallying Behind Kelly Clarkson After Her "Moment Of Action" BBMA Speech
Phillip Faraone/Getty Images Entertainment/Getty Images
There was no shortage of big names at the 2018 Billboard Music Awards on Sunday, May 20 to get the Twitterverse talking. The nominees alone were enough to promise a memorable night, but the speech by the host for the event right out of the gate seemed to take the cake. These tweets about Kelly Clarkson hosting the 2018 Billboard Music Awards tell you everything you need to know about the singer's performance on Sunday.
Clarkson started the show by honoring the lives lost in the Texas school shooting on Friday, May 18. "Before we start tonight's show I'd like to — this is going to be so hard," Clarkson began, tearing up. "Again we are grieving for kids who just died for no reason at all. ... They wanted me to do a moment of silence. I'm so sick of moment of silence, it's not working, like obviously. Why don't we do a moment of action? Why don't we do a moment of change? ... I have four children — I cannot imagine getting that knock on the door."
In an interview with Billboard prior to the event, Clarkson didn't indicate that she was necessarily planning to use her BBMAs platform to discuss serious social issues. "We're at the Billboard awards, not pushing legislation," she told the magazine. "I would love to find that happy balance of addressing things that should be addressed but also celebrating music. I don't want to take away artists' moments." So the fact that Clarkson brought up the issue of gun violence to start off her introduction for the night — and to applause — was a big deal.
On Twitter, people were clearly in favor of Clarkson's job as host. ".@kelly_clarkson already won the #bbmas," tweeted radio show host Mike Adams, citing her opening speech.
Others had shared words of support for Clarkson before the big night. "Good luck tonight, @Kelly_Clarkson," tweeted Ellen DeGeneres. "You're gonna do a great job hosting the Billboard Music Awards. Bring me back something nice."
Leading up to Sunday, Clarkson seemed pretty excited for the big night, tweeting about the event numerous times in the days leading up to to it. Her excitement was understandable given the lineup of artists that were slated to perform — which included Demi Lovato, Ed Sheeran, Christina Aguilera, Janet Jackson, and John Legend, among others, in addition to Clarkson and Ariana Grande, who did the first performance.
But apparently, Clarkson also had a touch of nervousness prior to the event, telling Billboard, "I'm terrified-slash-excited" at the prospect of hosting. "I literally went from saying no to even presenting awards, to this. I keep telling people it'll at least be funny to laugh at." Her big goal for the night? Just don't fumble. "I just really don't want to mess up a name," she told the magazine. (To be fair, that's probably every major awards show host's biggest fear — that, or announcing the wrong winner, as happened at the 2017 Oscars.) The advice she'd been given for the event was to just be herself, and it seems that that did the trick.
"I'm excited about a lot of people," Clarkson told Billboard. "And if I'm not an avid fan, our oldest daughter is — who's coming, our 16-year-old [stepdaughter Savannah] — so she keeps me cool."
Clarkson's own turn performing, which featured an incredible rendition of a mashup of songs, didn't go unnoticed, either. "So I'd love to just have the talent of @kelly_clarkson little toe nail," tweeted Erin Robinson. "Is that too much to ask?"
The American Idol winner is no stranger to musical accolades herself. In the decade-plus since her victory, she's clinched multiple Grammys in her own right. Clarkson is no stranger to the Billboard charts, either, having made a name for herself with 11 top-10 singles and three top albums. (And she's pretty much dominated in every respect. Fun fact: Her net worth is also one of the highest ever for a winner of the singing competition.)
Though Clarkson might have set modest expectations for her job hosting, it's safe to say she nailed her moment in the spotlight in both regards.