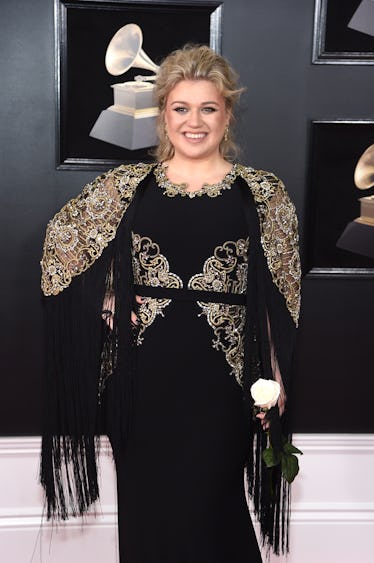 Here's What Kelly Clarkson's Net Worth Is & Spoiler Alert, It's A Lot
Jamie McCarthy/Getty Images Entertainment/Getty Images
Show me someone who doesn't love Kelly Clarkson, and I'll show you a liar. The American Idol alum has only skyrocketed to the top since winning the first season of the reality show in 2002, and has since created several award-winning songs that you're guaranteed to hear on the radio almost every single day. She's also a judge on The Voice, just in case you thought her singing talents weren't enough. She's accomplished and successful, which leads many to ask, what is Kelly Clarkson's net worth? The number is pretty high up there, but I bet you won't even be that surprised, since Clarkson is deserving of every dollar she's made.
According to Celebrity Net Worth, Kelly Clarkson has a net worth of $28 million. She may be the original American Idol, but right now I'm idolizing more than just her stellar pipes, TBH. The site describes Clarkson's career as "an uphill climb with continued success with album sales and critical acclaim," and is known for her record-breaking singles like "My Life Would Suck Without You," "Since U Been Gone," and "Piece By Piece." She's currently the "only American Idol contestant to have reached number one in the UK," and has sold over 20 million albums worldwide.
So, you know, NBD.
Clarkson is also the second-highest selling American Idol contestant, following closely behind Season 4 winner Carrie Underwood, and has won several Grammys for her albums. So, does $28 million sound like a lot of money? Yep. But does Kelly Clarkson work tirelessly to give the world amazing music time after time? You bet she does, and thats why she is deserving of every penny she makes.
I guess one could say that Clarkson is slaying the music industry, but it's not just her professional life that she's totally crushing — her personal life seems to be just as amazing. After marrying her husband, Brandon Blackstock, in 2013 and having two children together — River Rose Blackstock and Remington Alexander Blackstock — it feels like our girl is living her best life.
And even though the couple has been married for a handful of years, Clarkson gushed about her marriage and how she and her husband make a "great team." In an interview with USA Today, Clarkson said,
I was single for, like, ever. But once I found someone I fell in love with — we've been together four years — honestly, it still feels like the first week. We're just still crazy about each other...and we have a great team, I know we're going to be great parents. We were really adamant — our kids go to bed at a certain time every night, and then it's our time.
Can you even? Because I can't even.
Kelly Clarkson made sure she married someone who is just as driven as she is, too, so don't go thinking that Brandon Blackstock is purely arm candy (he is really cute though). Like his wife, he has ties to the music industry as a music manager like his dad, Narvel Blackstock (who was once married to country singer Reba McEntire), and has an impressive client list including the Rascal Flatts and Blake Shelton.
With such musical parents, I can pretty much guarantee that their children will be mega-talented singers. And if they end up not being musically-inclined, it doesn't really matter, because they're both ridiculously adorable. I mean, just look at River and Remington all dressed up in Disney with their mom:
These two are killing me with cuteness right now.
Miss Kelly Clarkson, I've appreciated you from the moment I saw you in that first season of American Idol, and now look how far you've come! Keep it up, girl, you're an actual #boss and we all adore you.
Do your thang, boo! Do your thang.