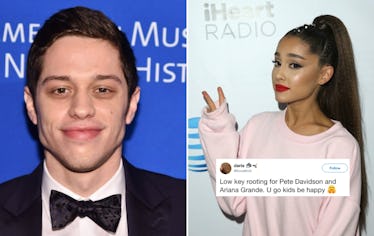 These Tweets About Pete Davidson Confirming His Engagement To Ariana Grande Are Everything
Michael Loccisano/ Jesse Grant/Getty Images Entertainment/Getty
Unless you've been living under a pop culture rock for the last few weeks, you probably know a thing or two about Ariana Granda and Pete Davidson's relationship. On Friday, the couple finally confirmed their engagement, and messages from well wishers swarmed in immediately. Get ready to fall in love, because these tweets about Pete Davidson confirming his engagement to Ariana Grande are so sweet they'll make you swoon.
Talk about a whirlwind romance. In early May, rumors began swirling that Grande and Saturday Night Live star Davidson were dating, and just a month later, the two were overheard "telling people that they were engaged" at Robert Pattinson's birthday party (you know, just famous people things). The couple had yet to confirm these rumors, but on Friday, June 15, all that changed when Davidson posted the Instagram of a lifetime. In the sweet post, Davidson basically confirmed their engagement — because why else would Grande have a massive rock on that finger?
The black and white pic doesn't show Grande and Davidson's faces, but boy, it does show a whole lot. Fans can see both of their hands and legs (and you can really see that ring), and it seems like Davidson is holding Grande from behind as they embrace. I say "seems like" because it's actually kind of hard to tell what's going on in the pic, but if you look hard enough, you can probably figure it out. "U know what you'd dream it be like ? it's better than that," wrote Davidson.
As soon as Davidson posted the now-iconic engagement "announcement," fans began congratulating the happy couple on Twitter, and their kind words will make you so, so happy. Seriously, even if you just got out of a breakup, these tweets will make you remember that love really does exist.
Can you really tell me that you don't believe in love after reading these tweets? No, you certainly cannot because it's impossible.
Twitter can sometimes be a total flaming garbage heap, but every once in a while, something happens and people have nothing but nice things to say, and I'm totally here for those moments. If Pete Davidson and Ariana Grande can make Twitter a better place, then I'm convinced they can do literally anything.
Things may be moving quickly for the couple, but it seems like they're super happy to have found each other. Before Davidson confirmed their engagement, a source close to the couple told Us Weekly that Davidson and Grande are beyond in love:
They are a perfect fit. They are not rushing to get married. Their friends are really excited and supportive ... They are both constantly making each other laugh.
Aww. Is there anything better than a guy who makes you laugh?
The source also told Us Weekly that the duo has already taken their relationship to the next step — meeting the parents:
Their moms have met. They've been very public with their relationship on social media, and they are very in love.
Meeting the parents is a serious thing, guys. But clearly, these two aren't afraid to get serious quickly: Just weeks after they began dating, Davidson got not one, but two tattoos in Grande's honor. Davidson now has Grande's unofficial logo, the Dangerous Woman bunny ears, behind his own ear, and a small "AG" on his finger, so it's clear he's thinking long-term about their relationship. You don't get a tattoo of someone's initials if you're not at least kind of serious, right?
Honestly, good for these two. They both seem like great people, and as long as they're happy, who cares if they get engaged after only a month of dating? Sometimes when you know, you just know.