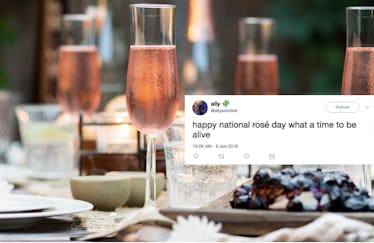 These Tweets About National Rosé Day Are Too Relatable & I'm Ready For A Glass
If you know me at all, you're probably well aware of the fact that I go all out for major holidays. Halloween is actually "Hallo-week," my birthday includes, like, eight different celebrations, and Thanksgiving sends me into a month-long food coma. With National Rosé Day happening on Saturday, June 9, you better believe I'm going all out with that glorious pink drink in hand. If you're as excited as I am to celebrate the best day of the year, these tweets about National Rosé Day are too relatable.
Maybe you're spending the day sipping some of that good old pink wine with your pals. Or, alternatively, you might be going on a rosé-themed adventure. And whether that means you're going on a little wine tasting, embarking on booze cruise, or even going on a rosé-themed picnic, I know it'll be a blast. Regardless of what you're doing — or what you want to be doing — these tweets show that everyone is just as excited for this unforgettable holiday.
Some people are simply thrilled to find out that it's National Rosé Day today, and I totally feel their enthusiasm. It's is so, so real, y'all, and it's all I want to be doing RN. #RoséForDays.
Others are showing off how they're celebrating the holiday — and whether they're at a wine tasting, hanging with friends, or lounging at home, I am honestly I'm so about the idea of spreading all the holiday spirit. People are truly living up to the phrase, "rosé all day."
Then, there are a few in the Twittersphere who — like myself — are vowing to celebrate National Rosé Day all the time. Does the greatest drink in the world only deserve one day out of the entire year? I think not.
If you're opting to celebrate National Rosé Day in more adventurous ways (that would deter you from bringing glass bottles), make sure to check out these seven canned rosés that totally give bottled rosé a run for its money. Brands like Lila, Eufloria, The Drop, Ah-So, Babe Rosé, and Underwood all make variations of canned pink wine, and each of them are absolutely delicious (without the fragility of glass). They're definitely worth seeking out for that picnic (or even for just sitting at home).
If you're seeking out a rosé booze cruise, on the other hand, make sure to sign up for one of 90+ Cellars' "Rosé On The Water" booze cruises. Seriously, they look extraordinary. The have boats departing out of New York City, Boston, and even from Chicago, each on different dates dates. Tickets only cost $85 or $90 per person, and each passenger can enjoy bottomless rosé, assorted hors d'oeuvres, the beautiful outdoor scenery, and, of course, the fact that everyone else is wearing pink (because, yes, there's a dress code, and it's all pink). Just note that none of these cruises actually fall on National Rosé Day, so you have a little time to plan it out. Don't you worry.
Nothing beats a good holiday celebration, especially if it involves rosé. There are so many fun things to do in celebration of the big day, and it's evident that the Twittersphere is going all out for it. Whether you're staying in and enjoying a glass, if you're on a rosé-filled adventure, or if you're vowing to celebrate this holiday every single day of the year, there's no wrong way to celebrate, and the parties have just begun. Don't forget to sip responsibly (and make sure you're over 21 years old).