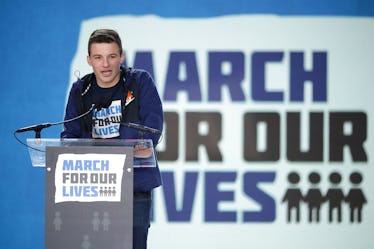 Cameron Kasky's March For Our Lives Speech Was Powerful & Twitter Is Moved
Chip Somodevilla/Getty Images News/Getty Images
Whether you're in Washington D.C. at the March For Our Lives or simply watching a live stream of the monumental event from afar, you probably witnessed Cameron Kasky's opening speech. Kasky, a 17-year-old survivor of the Feb. 14 mass shooting at Marjory Stoneman Douglas, has been a leading activist for gun control since the shooting. On March 24, he addressed the crowd with a speech that sent chills down my spine. Apparently, Twitter felt the same way, because the tweets about Cameron Kasky's March For Our Lives speech are super emotional.
Kasky took the March For Our Lives stage after a video compilation showing footage of the MSD students' fight for better gun control was projected. When he approached the microphone, the crowd roared. The student began his speech on a powerful note, and said,
Good afternoon. To the leaders, skeptics, and cynics who told us to 'sit down' and stay silent, wait your turn. Welcome to the revolution. It is a powerful and peaceful one, because it is of, by, and for the young people in this country. Since this movement began, people have asked me, "Do you think any change is going to come from this?" Look around; we are the change.
He's right, they are the change. Kasky continued, and said, "everybody here is standing with the future of our society, and for that, I thank you."
Of course, Twitter lit up after Kasky's speech. Many people found his words emotional and couldn't hold in the tears.
"Brilliant"
It was historic.
"I am in awe of your movement."
"Amazing speech. I've been wondering when the next voices of a generation were going to show up... they are here."
"All power to you."
"@cameron_kasky what a powerful speech in DC today! Please continue to drive that passion into change. Your generation is the embodiment of hope. Use your voice wisely and never let the power of it be squandered."
"@cameron_kasky I was moved to tears by your speech and those of your fellow Eagles at the March For Our Lives Rally. I am proud of all of you and have great hope for the future of this nation. God bless you. #EnoughIsEnough#NotOneMore"
"I look forward to the day I can vote for you! Nice job on the speech. Thank you for your passion."
In case you're wondering who Cameron Kasky is, rest assured he's one of the leading activists in the "Never Again" movement that started after the horrific school shooting in Parkland, Florida. He's a junior at Marjory Stoneman Douglas, and him and his peers are heavily involved in the "Never Again" movement, which was founded Alex Wind, a MSD student. Never Again partnered with non-profit organization called Everytown For Gun Safety, which is led by Michael Bloomberg, the former mayor of New York City. Both groups collaborated to create March For Our Lives.
So, what exactly is the March For Our Lives? If you thought it was a march to take away the nation's right to bear arms, you're wrong. The March For Our Lives is demanding that Congress improves gun control laws. According to their website, the organization has three main goals. Their first is that they want a law that bans the sale of assault weapons. They also want to prohibit the sale of high capacity magazines. Lastly, they want more extensive background checks for those looking to purchase guns. So, no, they aren't taking away your right to bear arms — they're simply trying to promote stricter gun control laws to ensure the safety of the nation.
If you haven't gotten a chance to march in person, find out about other ways you can support the cause.