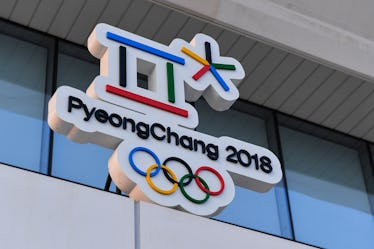 These Team USA Olympians Aren't Holding Back About Donald Trump
Koki Nagahama/Getty Images Sport/Getty Images
President Donald Trump is in office, and if you think that you are the only one who wakes up each morning with a need to take action against the current political administration, then you are definitely not alone. From awards shows to NFL games, celebrities and athletes alike have taken the opportunity to speak out against Trump. Athletes at PyeongChang 2018 have followed suit. These Team USA Olympians have spoken out against Donald Trump, proving that representing America doesn't always mean you agree with it.
The Olympics are a time when people come together to represent their countries and the countries themselves put aisde their differences (on the surface) for a little while and join each other in the games. But that doesn't mean that everyone suddenly agrees with everyone else. Especially this year, when the American political situation is so divided, it's perhaps not a surprise that the Olympics had some people competing for their fellow Americans but maybe not so much for their president.
So who are the athletes that aren't holding back about the president, politics, and everything in between? Here's some of what the more outspoken of Team USA have said about the commander in chief.
Lindsey Vonn
The Team USA skier spoke to CNN back in December 2017 as she geared up for the Winter Olympics. Vonn talked about competing for the U.S. ski team and noted, "Well I hope to represent the people of the United States, not the president." Vonn added,
I take the Olympics very seriously and what they mean and what they represent, what walking under our flag means in the opening ceremony. I want to represent our country well. I don't think that there are a lot of people currently in our government that do that.
Vonn, who won a gold medal at the 2010 winter Olympics in Vancouver, debuted at PyeongChang Friday, Feb. 16 for the women's Super-G. Sadly, Vonn ended up finishing in sixth place.
The athlete took to Twitter to express her feeling over losing, and was immediately trolled by Trump supporters because she was critical of him leading up to the Olympics.
Vonn is a champion, though, so she took it in stride and only tweeted back at those who tried to stick up to the trolls.
Vonn has another chance to race for gold in downhill skiing, which she won her 2010 gold for. She will compete on Wednesday, Feb. 21 in South Korea (which is Tuesday Feb. 20 in the US).
Adam Rippon
This Team USA skater has been a hot topic throughout the Olympics. He is the first openly gay male figure skater competing for America. Aside from that, he has been at the forefront of the conversation about Olympic athletes and politics because of his comments on Vice President Mike Pence.
On Jan. 17, before heading to the Olympics, Rippon opened up to USA Today Sports about his feelings on Pence leading the U.S. delegation in PyeongChang, given the VP's history of not supporting LGBTQ+ issues.
"You mean Mike Pence, the same Mike Pence that funded gay conversion therapy?" Rippon told USA Today. "I'm not buying it."
Rippon also went on to talk about Pence's relationship with Trump, speaking out against the president in the process. He said,
I don't think [Pence] has a real concept of reality. To stand by some of the things that Donald Trump has said and for Mike Pence to say he's a devout Christian man is completely contradictory. If he's okay with what's being said about people and Americans and foreigners and about different countries that are being called 'sh*tholes,' I think he should really go to church.
In wake of Rippon's comments, the vice president took to Twitter the day before the opening ceremony to post his support of Rippon. He stated that he wanted Rippon to know that "we are FOR YOU," and that he was rooting for him and all of Team USA to bring home the gold.
Rippon didn't directly respond to Pence's statement but at a press conference on Feb. 13, Rippon made it clear that he didn't want his tension with Pence to overshadow his first Olympics. He told reporters,
I don't want my Olympic experience being about Mike Pence. I have no problem about what I've said because I stand by it, but I think right now the Olympics are about Olympic competition.
Someone, however, was not ready to let it go. Donald Trump Jr. just had to get in there and share his feelings about Ripponwith Twitter.
What's that saying again, the apple doesn't fall far from the tree?
Rippon did not respond, probably because he was too busy winning medals at the Olympics.
Gus Kenworthy
Kenworthy is the first openly gay skier on Team USA. After winning a silver medal at Sochi 2014, Kenworthy, along with the rest of the U.S. team, went to the White House to meet President Barack Obama. He described the experience to Reuters as "thrilling."
In that same interview, on Jan. 14, he made it clear that if he were to be invited to the White House after PyeongChang, he would have to decline. Kenworthy said,
I am very proud to represent the U.S. but I don't stand by Trump and his cabinet and their policies. I do not want to feign approval for policies that are in place and things that are being pushed at the moment, by going. If I was invited I would decline my spot.
Sadly, Kenworthy placed 12th in men's ski slopestyle, the sport he won silver for in 2014, and didn't make the podium. But he did get a public smooch from his boyfriend Matthew Wilkas, which was a personal win for him and a groundbreaking moment at the Olympics.
Well, Vonn, Rippon, and Kenworthy have used their platform and the public stage that the Olympics provides to take a stand for what they believe in. And that's a win all its own.