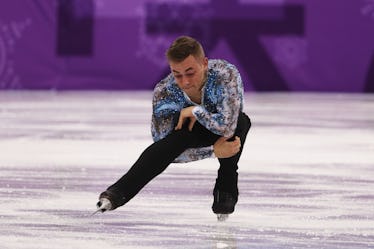 Adam Rippon's Post-Olympic Plans Are Super Relatable & I Love It
Robert Cianflone/Getty Images Sport/Getty Images
Figure skating is in full swing at the PyeongChang 2018 Winter Olympics that began on Thursday, Feb 8. Team USA already has a medal up their sleeve courtesy of the U.S. figure skating team, which has become a hot topic of conversation thanks to team member Adam Rippon, who made waves as the first openly gay U.S. figure skater to compete in the Winter Olympics. He might be a newly minted medalist and heading to compete in individual figure skating, but he's already thinking about what comes next. And it's great, because Adam Rippon's post-Olympic plans involve cheap wine and I am totally here for it.
"I'm going to go to Target and I'm going to get a bottle of Sauvignon blanc, Oyster Bay, with the twist top, immediately," Rippon told Good Morning America on Monday, Feb. 12, talking about what he plans to do once he is done competing for Team USA in PyeongChang and returns home to Los Angeles. Rippon isn't actually done competing — he still has the mens single skating events on Friday, Feb 16 and Saturday, Feb. 17 — but I'm glad to see he knows how to celebrate.
Cracking opening an easily-accessible cheap bottle of wine? Those are some very relatable plans we can all get behind. I mean, I think I deserve some Target wine that I'll drink straight out of the bottle and I didn't even win a bronze medal, or do much of anything else for that matter.
Target is even rolling out the red carpet for him.
But Rippon's post-game plans weren't the only topic of conversation.
Back in January of this year, before the Winter Olympics began, Rippon, as the first openly-gay Olympic competitor from the U.S., had some criticism on Vice President Mike Pence being tapped to lead the U.S. Olympic delegation. Rippon made it clear that he was against the choice given Pence's stance on the LGBTQ+ community and their rights.
"You mean Mike Pence, the same Mike Pence that funded gay conversion therapy?" Rippon told USA Today. "I'm not buying it."
Included on Pence's congressional campaign website back in 2000 was a statement supporting the harmful practice of conversion therapy, according to The New York Times. "Resources should be directed toward those institutions which provide assistance to those seeking to change their sexual behavior," the statement read. During the 2016 campaign, however, a spokesperson for Pence said he does not support conversion therapy. But Pence has had other troubling stances on LGBTQ rights. Time reported that in 2007, while a member of the House of Representatives, Pence also voted against the Employment Non-Discrimination Act that would prohibit discrimination based on sexual orientation, stating that it "wages war on freedom and religion in the workplace." Pence also opposed the repeal of Don't Ask, Don't Tell, a policy that prohibited members of the military to openly identify as gay. Pence didn't want the military to become a "backdrop for social experimentation," he told CNN in 2010.
Obviously, this became a point of contention leading up the PyeongChang 2018 Opening Ceremony on Friday, Feb. 9. But Pence decided to try and quell some of that by tweeting a message directly to Rippon the day before the ceremony. Pence assured Rippon that America is behind him. Pence even made a point to tell Rippon that he is proud of him, while cheering on the whole Team USA to "bring home the gold."
In his interview with Good Morning America, Rippon was asked once again to comment on Pence. "I personally don't have anything to say to Mike Pence," Rippon said. "I'm very lucky because legislation that he's pushed hasn't affected my life at all."
Rippon also wanted to make it clear why he felt compelled to speak out in the first place. He added,
I spoke out because there are people out there whose lives have been affected by change that he's tried to make. I spoke out for them because right now I have a voice and I think it's really important for me to use it. That's a conversation for them.
Rippon used his voice to stand up for everyone who doesn't have one. Not only when he decided to speak out against Pence leading the U.S. Olympic delegations, but also just in taking the ice as an openly gay man in a competition of this magnitude. It's, of course, a sign of progression and a huge leap forward, but it also teaches people watching that they should be confident in who they are and not be afraid, even if the times make people feel otherwise. Good luck, Adam Rippon, and enjoy that glass of wine. You've earned it!