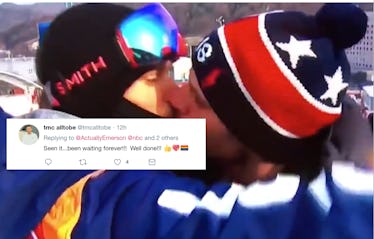 Gus Kenworthy Had A Sweet Olympic Moment With His Boyfriend & Twitter Is Loving It
The Winter Olympics are well underway, and there has been no shortage of exciting moments. On Saturday night, Feb. 17, Team USA freestyle skier, Gus Kenworthy, prepared for the Men's Slopestyle competition, and he shared a sweet moment with his boyfriend, Matthew Wilkas, right before competing. The cameras caught the couple's quick peck on the lips, and tweets about Gus Kenworthy and Matthew Wilkas' Olympic kiss show that people are very much here for this barrier-breaking kiss at the Winter Olympics.
As it turns out, neither Kenworthy or Wilkas were aware in that moment that the cameras were on them, according to The Guardian. The couple was simply acting the way you might assume any couple would (gay or straight) right before one half of the couple is about to compete in one of the biggest athletic events of their life. It just so happens that Kenworthy is one of two openly gay athletes on Team USA competing in the 2018 Winter Olympics.
With that in mind, people were loving every second of this show of affection between the couple. Viewers immediately recognized the significance that this loving moment between an openly gay couple aired on live television.
Members of the LGBTQ+ community expressed the great significance of seeing this kiss on television, even though it may seem like a "normal thing to do."
"...To see people in your LGBTQ+ community being able to do this openly and freely ... Well, there is nothing like it."
"I cannot explain to you what this means to me."
"Gus Kenworthy, you're making so many LGBT Americans so very proud of you!"
Once Kenworthy was made aware that his kiss with Wilkas aired live, Kenworthy told Yahoo Sports that sharing a kiss with his boyfriend at the Olympics has been something Kenworthy has wanted to do since he last competed in the 2014 Sochi Winter Olympics. Kenworthy was not out as an openly gay man during the 2014 Winter Olympics, according to Fortune. Kenworthy further explained to Yahoo Sports that he was "too scared" to go for that kiss four years ago, and he believes that having that representation of a kiss between two men on television is "the only way to really change perceptions."
Kenworthy expressed his pleasure that he could add to the cause of breaking down barriers. He said, "To be able to do that, to give him a kiss, to have that affection broadcasted for the world is incredible."
The couple definitely did their part to help break down barriers and misconceived notions about gay couples.
"The visibility and impact this can have on queer youths is immeasurable."
"I'm old enough to understand how significant that is."
"Aw, I hope anti-LGBTQ supporters, Donald Trump and Mike Pence, see this pic."
Of course, some people called out the current personnel residing in the White House. You'll recall the controversy when Olympian Adam Rippon, an openly gay figure skater on Team USA, declined a meeting with Vice President Mike Pence at the 2018 Winter Olympics due to Rippon's views of Pence's reported stance on the LQBTQ+ community. (Vice President Pence's offices declines that they requested a meeting.)
Still, people were shocked to realize that the kiss was actually shown on live television. Even though they were surprised, most people couldn't have been happier to have witnessed such a meaningful and powerful moment.
"I had to rewind that and see it again."
"Love is love is love is love."
While viewers were overjoyed to see the gay couple represented live on national television, they couldn't help but hope for a time in the future when a gay couple kissing is not big news.
"Look forward to the day when we don't care who is kissing who, but until then, moments like this make me smile!"
Groundbreaking kiss aside, Kenworthy still had to compete in the Men's Slopestyle event. While he qualified for the final Kenworthy placed 12th in his medal run, falling short of making the podium.
Even with a tough day on the slopes, nothing could overshadow the powerful moment Kenworthy and Wilkas produced by simple being a couple in love, and everyone took notice of that groundbreaking Olympic kiss.