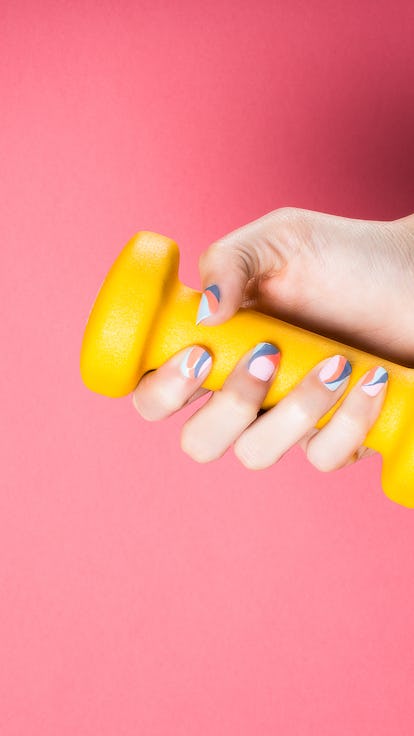 Essie Is Dropping Summer's Hottest Nail Colors & You're About To See Them On Every Celeb — EXCLUSIVE
Emily Assiran
It seems like summer is finally on the horizon, and seriously, I feel like that "It's been 84 years" meme from Titanic. As we all start to revamp our closets, our shoes, and our hair in anticipation of warmer weather, may we not forget to keep one thing in mind during our seasonal transformations: summer 2018 nail art trends. On the real, you can't change your whole look and forget to make your nails look fierce as hell, now can you? As you rack your brain for ideas on how to make sure your nail art is poppin' this summer, I invite you to ease your tired mind, my friend, for this is where Essie comes in.
Officially marking the beginning of the summer season (at least for me) is essentially the biggest, most extravagant pre-summer party of the year for celebrities and other very important people alike: the Met Gala. Today, May 7, 2018, you can prepare to have your mind absolutely blown away with the surely ornate and delightfully outrageous #Fashion and #Beauty moments you'll witness on the Met Gala red carpet. Considering this is the same event that brought us Rihanna's iconic yellow Guo Pei gown with a train that went on for miles, Kanye West's blue contacts, Zayn Malik's arms covered in silver armor, and any and all of Beyoncé's flawless looks, I think we can expect the stakes to be even higher this year.
Mike Coppola/Getty Images Entertainment/Getty Images
Mike Coppola/Getty Images Entertainment/Getty Images
Neilson Barnard/Getty Images Entertainment/Getty Images
Larry Busacca/Getty Images Entertainment/Getty Images
But alas, just like your own summer transformation, no celeb look is complete without a set of killer nails. On the red carpet tonight, several of the nail art designs you spot will have been achieved with Essie's spanking new Gel Couture Avant-Garde collection. The upcoming drop is packed with of-the-moment hues that'll help you make a splash at happy hour. Peep some of the hottest nail art trends for summer, crafted by nail artist extraordinaire Alicia Torello (@aliciatnails on Instagram), below to draw some inspo for your next mani. And who knows? With these new Essie colors, you could match your fav celeb's Met Gala look.
Brighter Than The Sun
Essie Gel Couture Avant-Garde Polish, $11, Essie
Let's set the scene for a moment, shall we? The temperature's finally risen high enough for you to shed your winter coat and exchange it for the ol' bathing suit collecting dust in the back of your drawer. This can only mean one thing: a beach day with your crew. Paired with fresh beachy waves and a margarita in hand, this nail art design relies on the colors "Avant Garment" and "First Fitting" to get your entire vibe shining brighter and bolder than the sun.
You're Turning Violet, Violet
Essie Gel Couture Avant-Garde Polish, $11, Essie
We all know that with the days spent having fun in the sun come "those summer nights." You know, the nights spent partying with your friends, their friends, and maybe even your ~summer fling~. Considering I can't hide under 15 layers during the summer, this is the time when I feel the need to look the trendiest I ever have — to be as far ahead of the trends as I can be. The main color trend this year? Purple. With ultra violet being named Pantone's color of the year for 2018, your whole world will likely be turning some shade of violet. Essie's Avant-Garde colors in "What's the Stitch," "Set the Seam," and "Bold Boundaries," pictured above on Brittany, will help you extend that trend from your hands to your toes.
Multi-Color Melt
Essie Gel Couture Avant-Garde Polis, $11, Essie
As much fun as rosé season can be, it's not all play with no work. Whether you're hitting the gym a little more or just feeling like you're sweating buckets in the heat while you're outside all the time, your nail game can still be strong AF and help you break into whatever scene you're feeling. This summer that means not shying away from multiple pops of color. See your worries (and boring nails) melt away with this multi-color marbled design, featuring "Showroom for One," "Pinned to Perfection," "Dye Mentions," and "Exhibit A Line."
Essie's Gel Couture polishes already come in more than 100 shades, and with the new Avant-Garde collection dropping in June 2018 on Essie's website, summer 2018 is truly looking like a technicolor dream. And consider application a breeze: all you need are two coats of the nail color and one coat of Essie's Gel Couture Platinum Grade Finish Top Coat ($11, Essie; sold separately) to seal the deal.
Keep your eyes peeled tonight at the Met Gala for the infusion of some of these new Essie colors on the red carpet. Then, let the style high notes spill over into your very own summer beauty ~lewk~.
Manicure: Alicia Torello using Essie
Photographer: Emily Assiran
Senior Fashion & Beauty Editor: Alana Peden; Beauty Editor: Theresa Massony
Photo Editor: Clare Thigpen