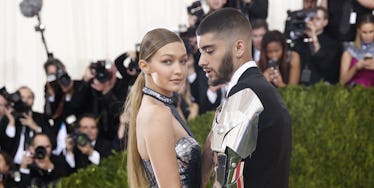 Zayn Malik And Gigi Hadid Were The Hottest Couple At The Met Gala
REUTERS
I AM ZAYN MALIK. I AM I AM I AM I AM ZAYN MALIK. *Sung to the tune of "Iron Man" by Black Sabbath*
What is the Met Gala? I have no clue, literally no clue. I know it doesn't have to do with the New York Mets thanks to some blank stares from my co-workers when I said the Met Gala's bullpen could use an upgrade and I thought the team should start to consider sitting David Wright.
That's about as close as I've come to figuring out what the Met Gala is.
Whatever the Met Gala is (awards show?), it was last night and every major star went to it (to buy art?). Beyoncé was there wearing a dress made of herpes sores, Taylor Swift was there after killing a medium-sized Burmese Python earlier that morning and Demi Lovato showed up as the showroom of a Persian tile store.
But, one couple known for its excessive sex appeal and literally never ever talking completely stole the show, and I think you can guess which couple that was.
OH MY GOD! IS ZAYN WEARING ROBO ARMS?!??!?
HOLY F*CK, HE'S WEARING ROBO ARMS.
IS THIS WHAT FASHION IS NOWADAYS? IF SO, I'M INTO IT. I'M SUPER INTO IT. I LOVE FASHION NOW.
Gigi and her knight in shining armour " Zayn Malik " pic.twitter.com/fRiizVQ6Tt — One Direction (@1DPostDaily) May 3, 2016
Zayn and Gigi look like they're at the end of a movie.
In the movie, Zayn is embarrassed by his robot transformation, so he doesn't reveal himself to be the crusader of justice for a city, but toward the end of the film, he needs to expose his identity during a fight to save her, a move he fears will lead to her leaving him forever.
After the fight, Gigi softly says to him amid the rubble and wreckage, "It's OK, your arms may be metal, but your heart isn't."
Uhhhhhhh, I think you mean Stark Industries, Zayn. Thank Stark Industries for your outfit at the Met Gala.
Citations: Zayn Is Gigi Hadid's Knight in Shining Armor at Met Gala 2016 (Billboard), Demi Lovato Shimmers on the Met Gala 2016 Red Carpet (Billboard)