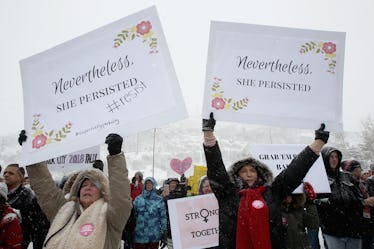 Women Are Marching Around The Globe & The Photos Will Make You Proud
Tommaso Boddi/Getty Images Entertainment/Getty Images
Despite everything we've gone through since basically the dawn of time, women have made it clear that we will not be silenced. Even with politicians who belittle us through prose and policy, wages that devalue our contributions to society, and millions of misconceptions about what it means to be a woman, we're still here — and we're still fighting. Need proof? Take a look at some of these photos from women's marches around the globe.
When the first Women's March occurred on Jan. 21, 2017, there was power, anger, and strength — but also sadness, grief, and fear. I remember marching in Tallahassee, Florida, and constantly tearing up, both at how empowered I felt and how uncertain the future was. This year, while our equality remains in jeopardy, I feel less scared — and I think others feel the same. This movement has persevered through the first year of a Trump presidency, and has returned with a vengeance for Women's March 2018: Power to the Polls. While hundreds of sister marches are taking place on Saturday, Jan. 20, the main march will take place on Jan. 21 in Las Vegas, Nevada, and will kick-off a voter registration tour in preparation for the 2018 midterm elections. Check out photos of the women around the globe marching for equality — and get ready to rock the vote in November.
Las Vegas, Nevada
London, UK
Miami, Florida
Phoenix, Arizona
Paris, France
Orlando, Florida
Lansing, Michigan
And then there were the marches that happened on Saturday, Jan. 20.
Early estimates of crowd sizes in just a few major cities, like New York, Los Angeles, San Francisco, and Chicago tallied up to at least million marchers, a number that doesn't include smaller marches or the ones taking place on Sunday.
Washington, D.C.
New York, New York
Chicago, Illinois
Los Angeles, California
San Diego, California
Atlanta, Georgia
Austin, Texas
Honolulu, Hawaii
Madrid, Spain
Ottawa, Canada
The main Women's March, as well as a number of national and international sister marches, will take place on Jan. 21 — so keep an eye out for more photos. Speakers include Rep. John Lewis (D-GA), Black Lives Matter co-founder Alicia Garza, Planned Parenthood president Cecile Richards, Senator Catherine Cortez Masto (D-NV), political commentator Dr. Melissa Harris-Perry, former Ohio state Senator Nina Turner, and civil rights activist Rev. William Barber III.
Not only is Nevada a swing state, but it also has direct ties to issues that Women's March had advocated for throughout the last year. In October 2017, a gunman opened fire on concert-goers from a Mandalay Bay hotel window, killing 58 and injuring more than 500, before killing himself. In December 2017, the House Ethics Committee announced that it was launching an investigation into sexual harassment accusations against Rep. Ruben Kihuen (D-NV). Though he denies the accusations, Kihuen has stepped down and stated that he will not seek re-election, per The Washington Post:
"The allegations that have surfaced would be a distraction from a fair and thorough discussion of the issues in a reelection campaign. Therefore, it is in the best interests of my family and my constituents to complete my term in Congress and not seek reelection," Kihuen said.
President Trump made headlines during Saturday's sister marches with a tweet suggesting that the march was serving to celebrate his achievements in the last year.
According to President Trump, we should all be soaking up the sun and basically thanking him for... what exactly? Any economic success we've had in the last year still hasn't changed the fact that women make less than our male counterparts (and the wage gap is worse for women of color, per CNBC). It also doesn't change the fact that we suffer countless other injustices, like being subjected to sexual assault and harassment, and having a government that wants to tell us what to do with our bodies.
Sorry, Mr. President, but I'll be forwarding all of my thank you's to the brave women, men, and non-binary individuals who marched this weekend.
Check out the entire Gen Why series and other videos on Facebook and the Bustle app across Apple TV, Roku, and Amazon Fire TV.