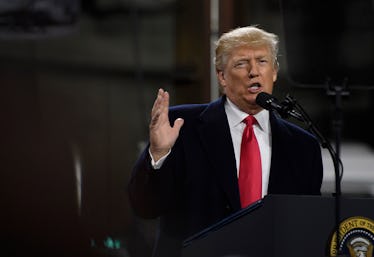 Donald Trump Apparently Thinks The Women's March Is Celebrating Him & I Can't Even
Jeff Swensen/Getty Images News/Getty Images
On Saturday, Jan. 20, people all across the country are marking the one-year anniversary of the historic Women's March with more marches and demonstrations. The original Women's March took place on Jan. 21, 2017 (the day after President Trump's inauguration). This year, organizers are back with a vengeance. While many people took to Twitter to express their support for the organizers and demonstrators, the president decided to make the moment about himself, as usual. Donald Trump's Women's March tweet shows a total lack of understanding of what the Women's March is all about.
At 1:51 p.m. ET, as men and women marched for gender equality and many other issues, President Trump decided to give his own take on Women's Marches happening throughout the country. Rather than acknowledging the fact that these people are literally marching in opposition to him and his administration, he went with a more oblivious approach, and suggested that the march is actually celebrating the "success" of his first year in the White House. I wish I could say I'm surprised, but truthfully, I'm not.
Let's just break this down a little bit, because honestly, it'll make it a lot funnier. President Trump leads with a comment about the "beautiful weather." According to The Weather Channel, as I'm writing this, it's 54 degrees in New York City, 46 degrees in Chicago, and 59 degrees in Washington D.C. In New York City, the average high in January is 43 degrees. So while the weather is beautiful, it's also rather alarming for this time of year. What's the term for that? Ah, yes, "climate change." Not exactly something I'd be quick to celebrate. But of course, the president doesn't take "good old global warming" seriously — so again, I'm not surprised.
But wait a minute — we've only just begun to dissect the tweet. The president capitalizes both "women" and "march," but does not refer to the march specifically. Not sure if this is a strategy or lack of grammar skills, but if I had to guess, I'd say the latter.
President Trump loves to use fluffy adjectives like "historic" and "unprecedented" to refer to his accomplishments and current events. I guess you could say that having people all across the country organize an annual march to oppose your policies and beliefs is "historic." Using your Twitter account to attack specific media outlets and critics is certainly "unprecedented." Oh, and the government shutdown? There's another adjective for that: sad!
What about the "lowest female unemployment rate in 18 years?" According to Bureau of Labor Statistics data, the unemployment rate for women aged 20 and older has been falling steadily since 2012, per The New York Times. Not to mention that there are about a million other issues we still have to deal with, like a president who has talked about "[grabbing women] by the pussy."
Of course, Twitter was quick to correct the president's tweet and remind him what the march is really about.
While the first Women's March was a more general opposition to President Trump, this year the main march has a specific theme: Power to the Polls. Hundreds of sister marches are taking place on Jan. 20, but the main march will take place on Jan. 21 in Las Vegas, Nevada. Organizers will then embark on a national voter registration tour, visiting swing states (Nevada is one of them) to register eligible voters and encourage them to participate in the upcoming midterm elections.
According to a statement on the Women's March website, "The coordinated campaign will build upon Women's March's ongoing work uplifting the voices and campaigns of the nation's most marginalized communities to create transformative social and political change."
Check out the entire Gen Why series and other videos on Facebook and the Bustle app across Apple TV, Roku, and Amazon Fire TV.