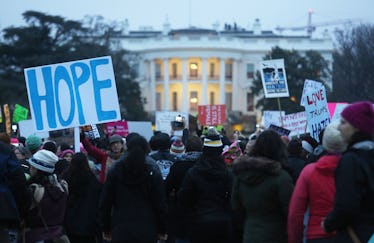 This Is What The Women's March Is Doing This Year & You Can Get Involved
Mario Tama/Getty Images News/Getty Images
This time last year, millions of women across the United States created a united front when they used their city streets as a marching ground to fight for women's rights. In response to the election of President Donald Trump, many women, for the first time, took a deep dive into activism and organized protest. One year later, the momentum has only fortified, but with a focus on electing progressive women officials in the 2018 midterm elections. As they gather support and hype for the upcoming movement, many are wondering what the Women's March Power to the Polls is.
On Sunday, Jan. 21, the Women's March will reunite for its first anniversary in Las Vegas, Nevada, launching a national voter registration tour. After its kickoff event in Nevada, the group will begin a 10-state tour, targeting swing states such as Arizona and Florida, to register new voters and ultimately help elect more women into office in swing states.
In a press release, Linda Sarsour, co-chair of the Women's March, said, "In Alabama, Black women delivered as they always do. In addition to being willing to follow and support Black women, we all must commit to fighting the systemic voter suppression laws that inhibit so many of our communities from voting. This campaign will mobilize a new group of activists to create accessible power to our voting polls."
Sarsour is referring to the monumental win for the newly elected Democratic Senator of Alabama, Doug Jones. According to data from exit polls, about 98 percent of black women, who made up 17 percent of all Alabama voters, voted for Jones in the Alabama senate election. Jones' win made him the first Democrat to take office in Alabama since 1992.
The Democratic win in a historically red state like Alabama has many women hopeful for a shift towards a Democrat-controlled Congress, which could also include a rise in female representation on the hill. As of December, a record number of 369 women were planning to run for Congress, and the Women's March in Las Vegas is working as a catalyst for their success.
The group selected Nevada for its anniversary event due to its significance in the 2018 Senate election. Nevada is expected to be a battleground state in the election, as Representative Jacky Rosen will run against the incumbent Republican Senator Dean Heller. It is considered a "swing state" because Nevada was one of few Republican-controlled states to favor Hillary Clinton over Trump in the 2016 election, according to CNN. In the press release, Sarsour added that Nevada "was rocked by the deadliest mass shooting in modern U.S. history, recent sexual assault allegations against elected officials, and has become a battleground state that will shape the Senate in 2018."
According to the Huffington Post, the Women's March has state coordinators in 35 different states, with 5,500 local groups that will help partner with different cities to coordinate town hall meetings, candidate training sessions, and voter registration events before the midterm elections.
Luckily, Las Vegas will not be the only location to host the Women's March this upcoming weekend of Jan. 20. On the group's website, individuals can find local women's marches and events for their respective cities on a directory map. Similar to last year, marches in Washington D.C. and New York City are expected to be one of the largest of the weekend.
The upcoming marches will likely display a continued, united front of activism that has not lost its flame from last year. If the voter registration tour has as great of an influence on enabling women to get involved in politics and activism, there's no telling what results will come of the 2018 midterm elections.