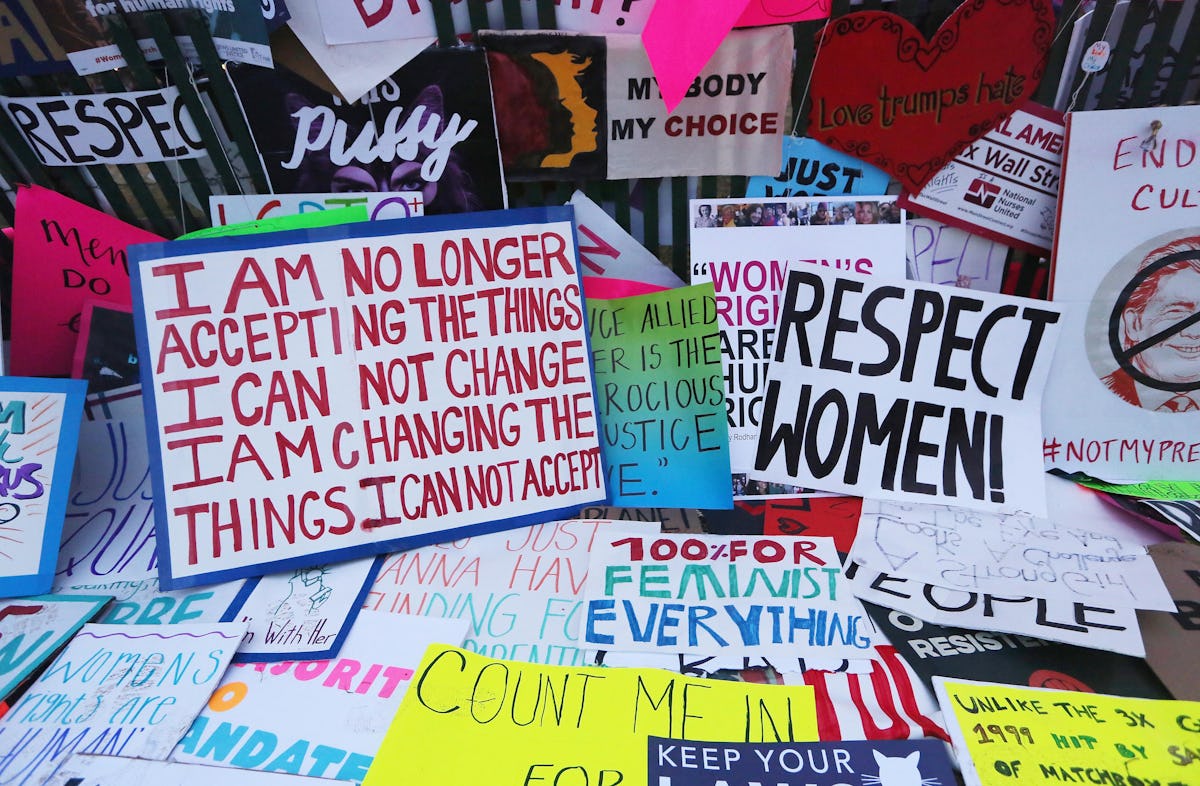 You Can Protest Trump's Birth Control Rule By Taking Action, Here's How
Mario Tama/Getty Images News/Getty Images
Many people, women in particular, were worried that if Donald Trump and the Republican party came to power that women's rights might be on the chopping block. As it turns out, they were right to have concerns. On Friday, Oct. 6, Donald Trump rolled back the Affordable Care Act (ACA, aka Obamacare) birth control coverage mandate. You don't have to accept this, though, because you can figure out how to protest Trump's birth control rule to take action against this rollback.
According to Politico, the rollback will now allow employers to claim religious or moral objection to providing birth control coverage that was previously mandated under President Barack Obama. In the wake of this news, many women's groups that advocate for women's rights have something to say. Cecile Richards, President of Planned Parenthood Federation of America, in a statement in a press release that was emailed to Elite Daily says:
The Trump administration just took direct aim at birth control coverage for 62 million women. This is an unacceptable attack on basic health care that the vast majority of women rely on. With this rule in place, any employer could decide that their employees no longer have health insurance coverage for birth control.
The press release explains that the Affordable Care Act under President Obama offered employers with religious objections to birth control to opt out of providing contraceptive coverage, while still making sure that their employees received health coverage proved directly by the health insurance company.
The Trump administration rollback that goes into effect immediately, according to Planned Parenthood's press release, which added it,
Eliminates the guarantee that women will continue to receive coverage for birth control regardless of their employer's beliefs by making the accommodation voluntary.
So, what can you do?
Use Your Voice
The first thing you can do is to get on the phone to Congress and express your displeasure with the roll back. Seriously, you can just call the Capitol switchboard at (202)-224-3121 and get started.
Next, you can make your voice heard to a broader audience by posting about the necessity of affordable health care and contraceptives for women on social media and using the hashtag #HandsOffMyBC.
You can also join the fight by donating to groups that are challenging the rollback.
Center For Reproductive Rights (CRR)
According to a press release from CRR, the organization is, "currently considering all legal action to ensure women can get the health care they need, free from discrimination."
In the press release, Sandy Northrup, President and CEO of CRR, said,
The Trump administration continues to display a startling disregard for the reality of women's health and lives. An employer or university can't be allowed to use religious or moral beliefs to prevent a woman from planning her future and her family. The Center for Reproductive Rights is prepared to fight these discriminatory and unconstitutional restrictions in court.
You can donate to CRR here.
American Civil Liberties Union (ACLU)
Brigitte Amiri, Senior Staff Attorney for the ACLU, said the organization will challenge the rollback. According to Amiri, they plan to challenge it based on the grounds of it being "blatantly unconstitutional" in two ways — discriminating against women and violating the separation of church and state.
You can help the ACLU in their fight by donating here.
National Women's Law Center (NWLC)
The NWLC is committed to making sure that women are not discriminated against when it comes to their health insurance and birth control coverage. Just moments before the new law took effect, the organization tweeted out a statement from their president and CEO, Fatima Goss Graves, in which she states "the rules give employers a license to discriminate against women."
To help the NLWC end this discrimination, you can donate here.
Attorneys General
Statements in a press release that was put out by the Democratic Attorneys General indicate that they are likely to take action against this health coverage rollback regarding women's contraception.
Ellen Rosenblum, Oregon Attorney General and Democratic Attorneys General Association (DAGA) said in a statement,
As a woman, a mother and a grandmother, it is important to me to fight for reproductive health care and access to contraception for generations to come. And we, Democratic Attorneys General, are prepared to take action to protect the rights of women in our states to maintain our self-determination, health and dignity. This is a fundamental right that must be accessible to all women.
Americans United
Americans United for Separation of Church and State are also suing the Trump administration over the new rule. Maggie Garrett, American United's legislative director, said in a statement,
Religious freedom is about fairness – it does not give anyone the right to deny women access to birth control. The Trump administration's regulations violate the First Amendment and are a huge step backward for women's health and equality.
So, you can see, that when faced with a Trump administration that doesn't value women's guaranteed access to affordable contraception, there are many people willing to fight back for women's rights.
Don't just sit back, because you can be one of them, too, by taking action today. Make sure you keep a lookout for any local actions that are being taken, such as protests or marches happening in your area to show your support for the cause.
Editor's note: This post has been updated to include Americans United.