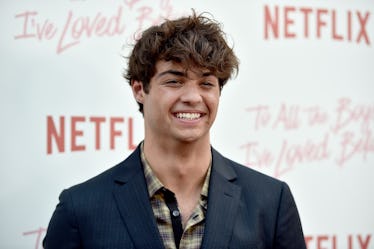 Here's What Noah Centineo Looked Like Before He Was Famous
Alberto E. Rodriguez/Getty Images Entertainment/Getty Images
Noah Centineo might not be a household name just yet, but he's definitely on his way to becoming one. Is it his charming smile that makes him a star? His charismatic personality? His thick head of hair that makes me envious that it's not mine every time he tousles it? Perhaps it's a healthy combination of all three. Whatever the case is, Noah Centineo is this close to becoming America's Sweetheart. I can just feel it. But just like every other human being on this planet, Centineo certainly went through a "phase" — you know, the kind where you were young and gangly, or you had braces, or had a pre-teen Justin Bieber haircut — and honestly, knowing that makes me feel slightly better about my youth. And seeing photos of Noah Centineo before he was famous is proof that even the hottest celebs had their awkward moments back when they were younger.
Now look, I'm not going to sit here and obsess over how amazingly wonderful Noah Centineo's character, Peter Kavinsky, was in To All The Boys I've Loved Before (even though I really, really could). And I'm also not going to express my sheer excitement to watch him play another adorable jock in the Netflix rom-com Sierra Burgess Is a Loser, which is premiering on Sept. 7 (again, I could really do that, too). What I'm here to do is to simply show you a handful of images of Noah Centineo before he got really, really, ridiculously well-known. And I promise you, these images will blow your mind.
But first, because I'm such a good person, I'm going to gift you with a video of young Noah Centineo from a movie he starred in back in 2009 (when he was just 13), called The Gold Retrievers. If you think this movie is about golden retrievers, you're correct. If you think this movie is about gold, you are also correct. (See what they did there?)
The trailer looks like it could have been filmed back in the 70's, but was impressively only shot a decade ago. In it, we see a young 12-year-old Centineo with a mop of hair and some super interesting outfit choices.
It's... a lot. Check out the trailer below for yourself:
Clearly, the movie wasn't award-winning, and sort of looks like the knock-off version of Home Alone mixed with Indiana Jones.
But personally, I find that the trailer doesn't do Noah any justice, so without further adieu, let me provide you with some fantastic portraits of the man who everyone wants to be their boyfriend.
Can we just talk about Noah's mustard-yellow turtleneck? This is oh-so-very Brady Bunch, IMO:
And this hair. Classic Sk8r Boi hair, and let me tell you, it is a ~lewk~ that may or may not necessarily be working on him:
And here he is looking so sad. Perhaps it's because he can't use that skateboard to his right that would show off his flowing mane in the wind?
And here he is using complementary colors to really make his outfit pop:
And here's just one more, for good measure:
I don't know about you, but now that I've glimpsed at this little photo album, I can breathe easier. I feel fulfilled. I'm a new woman, you guys! And I bet the feeling is mutual.
Basically, what I'm trying to say is: you're welcome.