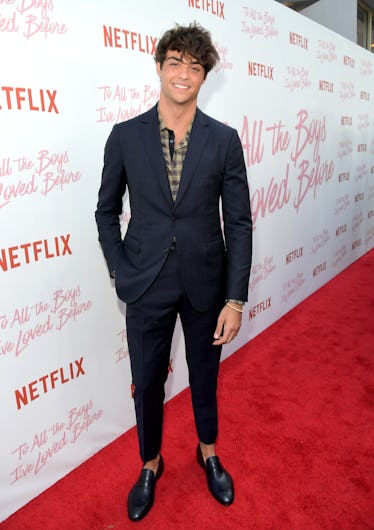 Noah Centineo Is Going To Play Your Dream BF In So Many New Movies, So Prepare Yourself
Charley Gallay/Getty Images Entertainment/Getty Images
If just watching actor Noah Centineo smile makes you instantly break out in a full-on hot sweat, know that you are not alone. In fact, if you don't do that, you might want to get your vision checked, because that boy makes me THIRSTY, y'all. And sure, you can watch To All The Boys I've Loved Before on repeat to watch him play the charismatic Peter Kavinsky over and over again until your laptop screen breaks, but many fans are wondering the same thing: What other movies will Noah Centineo be in, if any? Well, I've got some good news for you, fam, and it involves Noah on your screen once more.
The 22-year-old actor will be starring in another Netflix rom-com, Sierra Burgess Is a Loser, premiering Sept. 7 — YES YOU GUYS, that means you only have to wait one week until Noah is portraying yet another hot jock!
This movie is definitely different from TATBILB, but Noah's character seems to have a few striking similarities — his popular status, his charm, and the fact that he makes a high school girl basically melt into a puddle, for starters. He stars alongside Shannon Purser, who might look slightly familiar to anyone who's obsessed with Stranger Things... YOU GUYS, IT'S BARB!
According to Glamour, the plotline of Sierra Burgess Is a Loser involves a girl named Sierra (Shannon Purser) who is "a whip-smart member of the marching band who's teased by a popular girl named Veronica (Kristine Froseth)" who receives a text message from their resident hot high school jock Jamey (Noah Centineo), thinking that he's actually conversing with Veronica. Sierra then ropes Veronica into a "scheme to keep her identity hidden from Jamey for as long as possible," so basically, we're talking about catfishing at its finest, folks.
Noah recently spoke with Entertainment Tonight about working alongside Shannon and — no shocker here — had nothing but kind words to say about his co-star. He told ET,
We were both on other ends of the phone, and I was just in a different room. And it wasn't even acting. You're sitting there talking and it's like, someone you have a true connection with. She's just so available to that and open to that and I feel blessed to work with her.
Can Noah ever say anything that doesn't make women all over the world swoon? Doubtful.
You can check out the trailer for the movie below, and I think it's going to totally be on the same level of TATBILB, if I'm being honest:
Next up on Noah's movie roster is Swiped, a movie about two college roommates (one nerdy, the other not-so-much), who work together to create a hookup app, but apparently, some sh*t goes down and chaos ensues.
If you think that Noah plays the nerdy roommate in this film, LOL — he plays Lance Black, who looks like the ultimate college bro. While he still resembles the "jock" role like TATBILB and SBIAL, it seems like this character is a little less sweet and a tad more narcissistic.
You can watch the trailer for Swiped below, which is slated to premiere in November 2018:
There are two other movie roles that it looks like Noah will be playing on your screen soon, though the details of both films are relatively scarce.
According to IMDB, his movie The Stand-In is about a character named Brooks Rattigan, played by Noah, who, "in a clever scheme to raise money for college, creates a dating app wherein he plays the role of 'stand-in' boyfriend for every kind of situation you can imagine."
UM, sign me up, please?
There's no release date yet, but I have a feeling that Noah playing yet another devilishly handsome young adult is going to do very well.
The last movie that it looks like Noah will be appearing in as of now is The Diary, which IMDB describes as the story of a young man living in the 1930's who "leaves Shanghai to come to Europe and reunite with the love of his life." There are no other details about the film, other than it looks like it may be coming out in 2019, and we're not even sure what character he plays (though I'm hoping the main one).
So, if you're looking to get your Noah Centineo fix, fret not — you'll get to see his gorgeous smile (and ridiculously perfect head of hair) in plenty more roles very soon.