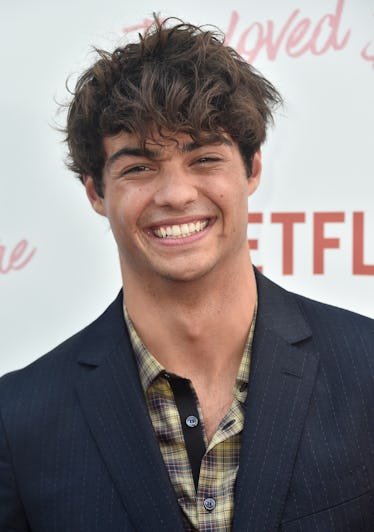 Noah Centineo Was A Star Long Before 'To All The Boys I've Loved Before' With These Roles
Frazer Harrison/Getty Images Entertainment/Getty Images
Move aside, Zac Efron. There's a new teenage heartthrob in town and his hair is just as good as yours. To All The Boys I've Loved Before star Noah Centineo is making serious waves on Netflix as Peter Kavinsky — a gorgeous, kind, love interest to lead character Lara Jean Song (played by Lana Condor). This role is probably Centineo's first introduction to many. However, the 21-year-old actor has been working for a long time and TATBILB if far from his first cinematic rodeo. Many people might be wondering — What past movies has Noah Centineo been in? The answer is: Probably none that you've seen, but that doesn't mean they don't exist.
To be fair, he's also been on television and actually won a Teen Choice award for the series The Fosters in which he plays character Jesus Adams Foster. He took over the role in 2015 when the original Jesus, Jake T. Austin, left the show. Though the show ended this year, Centineo will be reprising the role of Jesus on the show's spinoff, Good Trouble, airing in 2019. Prior to that, IMBD shows he's had small parts and various television appearances since 2009. Doing some quick math... carrying the one... that means he was first credited with an acting title at the age of 12. For trivia purposes: It was for a movie called The Gold Retrievers and Centineo starred in it. The film's summary is, "A boy and his dog must go in search of a fabled local treasure in an effort to save the family house from foreclosure."
Checks out.
He also has a credit listed for a biblical musical movie called Abraham and Sarah, The Film Musical. I watched the full six-and-a-half-minute cringe-worthy trailer and couldn't find him, and honestly, I feel like I lost a part of myself during the process. For these reasons, I say this one doesn't count.
Moving on...
My absolute favorite gig of Centineo's is definitely his work as Camila Cabello's love interest in her "Havana" music video.
I know. You didn't see that one coming now did ya?!
You can watch the entire music video (which I highly recommend) or fast forward to the 4:40-minute mark where Centineo makes his big appearance. The video ends with him swaying from side to side, hip-to-hip with Cabello.
This music video is also now my new thing to watch at night to help me fall asleep. That's not too much, is it?
As far as the internet tells me, these are his largest roles in TV and film so far. But surely, now that Centineo's broken out in such a major way thanks to TATBILB, fans are bound to see more of him everywhere.
He's already wrapped another 2018 Netflix comedy called Sierra Burgess is a Loser scheduled to come out in early September. In that film, he co-stars alongside lead actress Shannon Purser, whom you definitely remember as "Barb" from the hit series Stranger Things.
Surprise, surprise. He plays a dreamy high school love-interest in this film, too.
Look, it's not his fault he's the angelic/babyface/beefcake type.
If you're like me and late to the Noah Centineo party, but definitely want in now, you can find him in To All The Boys I Loved Before on Netflix or just stalk him on Instagram like a normal person, too.