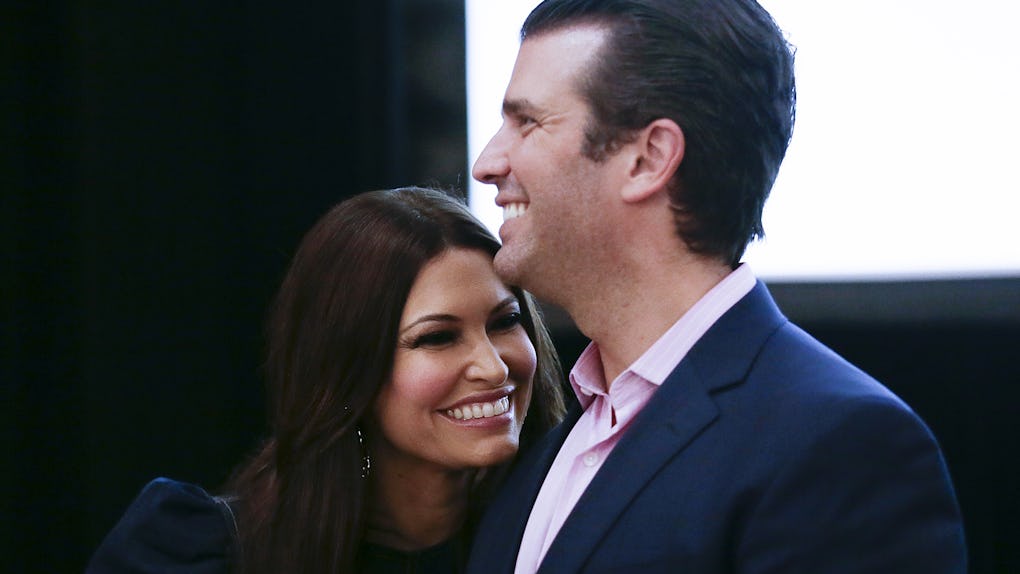 Bob Levey/Getty Images Entertainment/Getty Images
These Photos Of Donald Trump Jr. & Kimberly Guilfoyle Highlight A Strong Relationship
In 2019, we've seen the end of a lot of celebrity relationships. However, there's one couple that's still making headlines (whether they like it or not). These photos of Donald Trump Jr. and Kimberly Guilfoyle are a lot to handle, but here we are.
It feels just like yesterday when rumors started circling that Trump Organization executive vice president Donald Trump Jr. and former Fox News host Kimberly Guilfoyle were an item. Reports surfaced about the possible relationship in May 2018, just a few months after Don Jr. and ex-wife Vanessa Trump announced in March 2018 that they were divorcing after 12 years of marriage. At the time, the couple released a statement together, saying,
After 12 years of marriage, we have decided to go our separate ways. We will always have tremendous respect for each other and our families. We have five beautiful children together and they remain our top priority. We ask for your privacy during this time.
Even though Trump and Guilfoyle kept their relationship pretty quiet in the beginning, eventually the pair started posting photos together more often. However, to many people, the relationship was officially considered "serious" when Guilfoyle attended the 2019 State of the Union with the Trump family in February.
Despite being so much in the public eye, Don. Jr and Guilfoyle don't seem to share much about their personal lives, though Guilfoyle is very active in President Trump's reelection campaign. Aside from campaign events, the couple's dates seem to involve outdoor activities such as fishing, which is.... romantic, I guess? Hey, to each their own.
Guilfoyle posted a montage of her and Trump back in June 2018 of their trip to Montana, complete with matching camouflage Trump hats (that they wear in every single photo).
That Christmas, Guilfoyle shared a photo of the couple spending time with Donald and Melania Trump in the White House. No scary red trees to be found.
In the new year, the couple made headlines again when Guilfoyle attended the State of the Union with the rest of the Trump family. She also posted a video to her Instagram story that same night, where she said she was excited to see POTUS "kill it."
And then, there's the influx of Guilfoyle's election campaign photos, where she posts about Trump Jr. and his father at what seems like every chance she can get.
Out of the two, Guilfoyle definitely posts more photos of her and Don Jr. compared to the Trump executive. But I guess the feeling's mutual, because reports claim that the couple has taken their relationship to the next step. On April 24, The Daily Mail reported that Don Jr. and Guilfoyle apparently bought a house together in Bridgehampton in Long Island City, New York. According to The Daily Mail, the estate is estimated to cost $4.5 million and has seven bedrooms all together. Elite Daily reached out to the Trump Organization for confirmation on the reports, but did not hear back in time for publication.
As for the future of this duo, only time will tell. But don't be surprised when you see them at Trump's next reelection rally.