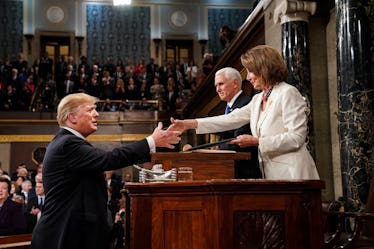 These Nancy Pelosi Quotes About Donald Trump Throw Shade In A Subtle Way
Pool/Getty Images News/Getty Images
You know what they say: Keep your friends close, but your enemies closer. The relationship between President Donald Trump and Congress has been tense over the past few months to say the least, especially when it comes to Trump and House Speaker Nancy Pelosi's dynamic. Of course, these two political leaders have to put their differences aside at times, but these Nancy Pelosi quotes about Donald Trump prove she knows when to throw shade at the perfect time.
As the speaker of the House of Representatives, Pelosi has had to spend some serious one-on-one time with the president over serious matters. In general, the two keep it relatively civil, but there have been a few moments when Pelosi has let her feelings on certain matters slip out. Whether it's talking about avoiding a government shutdown in the Oval Office, or retracting an invitation to host the State of the Union, it's clear by now that Pelosi means business.
Trump hasn't been shy about expressing his opinions on Pelosi either, but he's been a bit more vocal compared to the house speaker. On Jan. 15, during the month-long government shutdown, Trump took to Twitter to call Pelosi out for still getting paid while nearly 800,000 federal workers were not during the shutdown.
No matter what side you're on, it might be a while 'til these two call a truce. In the meantime, here are some examples of Pelosi proving that though she can throw shade, it's always done in a semi-professional way.