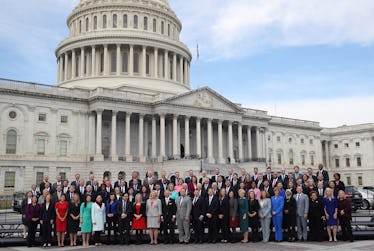 Democrats Have A Whole Lot They Might Investigate With Control Of The House
Win McNamee/Getty Images News/Getty Images
It's been a couple of months since the midterm elections, but the new congressional class is about to take up their posts in the House and the Senate on Jan. 3. With a Democratic majority now in the House, there's one big question on everyone's mind: what will Democrats investigate when they take control of the House? There's a laundry list of things they could look at.
In the November 2018 midterm elections, Democrats managed to gain 40 seats in the House, which now gives them the ability to exercise their investigating powers, as they'll control House committees. They'll have the opportunity to look into a number of things that Democrats have felt were insufficiently examined, including the president's finances, the allegations against Brett Kavanaugh, and possible collusion with Russia. Given that with control of the House committees they also have subpoena power — meaning they can demand testimony — get ready for a wild ride. Even before the new members were sworn in, legislators were promising to take on some major issues.
When might it start? It's hard to say, but I wouldn't gamble on a wait. Here are the things to keep an eye out for in the coming weeks and months.