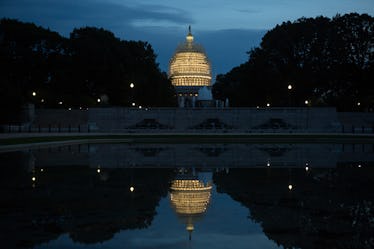 If Democrats Can Take Back The House We're In For A Bumpy Ride, This Expert Says
Allison Shelley/Getty Images News/Getty Images
The midterm elections are right around the corner, with voters heading to the polls on Nov. 6. According to multiple predictions, Democrats are expected to make significant gains, which is sparking serious questions of what'll happen if they win back a share of power — particularly, what happens if the Democrats take back the House? If you're wondering the same, here are some things you should know.
The midterms are not only expected to shape the remainder of President Donald Trump's tenure, but will also greatly affect American politics for the next few years. That said, there's a lot at stake in November's elections, especially with predictions showing that Democrats have wide leads over Republicans in the race for the House of Representatives. According to statistics site FiveThirtyEight, Democrats have a four-in-five chance of taking back the House, so it's kind of a big deal.
One of the biggest possibilities if they can retake the House is that Democrats will have the power to investigate the Trump administration more aggressively and thoroughly. With House control, Democrats would be able to subpoena documents on a number of issues. In fact, Mark Peterson, a professor of public policy, political science and law at UCLA who specializes in the relationships between the White House and Congress, tells Elite Daily via email that a Democratic majority in the house will unleash "numerous" investigations against Trump and his administration by multiple committees.
"With the Democrats having the power to set the agenda, control most of the committee staff, and issue subpoenas, [investigations] would become the dominant set of activities and the new story," Peterson explains.
According to Vox, some of those investigations could include the president's ties to Russia and whether his 2016 campaign colluded with the country to influence the election, and the sexual misconduct allegations that 19 women (and counting) have brought against Trump. The official White House position on the allegations is that all the women are lying, and the White House did not respond to Elite Daily's request for additional comment. Ultimately, Democrats could even begin impeachment proceedings against Trump, but it's too early to call whether it would go anywhere in the Senate, particularly if Republicans maintain control there.
Trump isn't the only one who might be in danger. New York Rep. Jerrold Nadler, who would become chairman of the House Judiciary Committee if Democrats win the House, has already promised to open a formal investigation into the sexual assault allegations against new Supreme Court Justice Brett Kavanaugh, which he has denied, if Democrats win the chamber. Elite Daily reached out for additional comment about the allegations, but did not hear back. Although it's pretty unlikely that Republican senators would ultimately side with Democrats for the 60 votes needed to remove the judge, there's still a possibility, nonetheless.
Impeachment matters aside, Democrats could also stymie Trump's legislative agenda. As The Hill notes, they could block Trump's priorities, like funding his border wall, or controversial policy changes from him, like his attempts to dismantle President Barack Obama's Affordable Care Act (ACA), also known as Obamacare, which seems to be among one of the highest priorities for Democrats, per Business Insider.
Peterson says that if Democrats can take back the House, that's the end of Trump's agenda. "President Trump and his Republican congressional allies will not be able to proceed any further with their legislative agenda, period," he writes, citing the Republican attempts to repeal the ACA as an example. And while it's possible the two parties might be able to find some common ground, Peterson thinks it's unlikely given the polarization in Congress. "It is possible some common ground will be found on some issues, such as investments in infrastructure, but even they will be caught not only in the vice of extraordinary partisan polarization and mutual distrust, but also the enormous constraints imposed by the erupting budget deficit and rapidly accumulating debt," he says.
When it comes to Democrats getting their own efforts signed into law, however, Peterson notes that it might not be such an easy task. With predictions suggesting that Republicans will retain a majority in the Senate and the president's veto pen, Peterson says we might see some major gridlock. "[L]awmaking is likely to come to near a complete halt, except for essentials (over which there could be enormous battles)," he says. But the bright side, he says, is that Democrats in Congress will at least be able to help shape the Democratic policy agenda and propose legislation that would be ready to move if a Democratic president is elected in 2020.
When it comes to White House drama, losing control of a chamber of Congress would make things even more unstable. Peterson says to keep an eye out for what happens to White House staff, suggesting that a large number of staffers might resign from their posts and pursue other opportunities. "The insider news accounts suggest that there is a large number of White House officials just waiting to get past the midterm elections before they resign from their posts and pursue other opportunities," he says, and "the numbers may be even greater if the Democrats gain a majority in the House (or even worse, from their perspective, manage to retake both chambers)."
Still, Peterson says, there's a lot of unpredictability that lies ahead. The first uncertainty, he says, is what will come from Robert Mueller's investigation into whether the Trump 2016 campaign colluded with Russia to influence the presidential election and what impacts the potential findings will have in the current political climate.
"Hold onto your hat and put on your seat belts," Peterson warns.
Come Nov. 6, voters will have the chance to weigh in on whether the Democratic party should win the 23 extra seats needed to reclaim the majority in the House. We'll see how this turns out then.