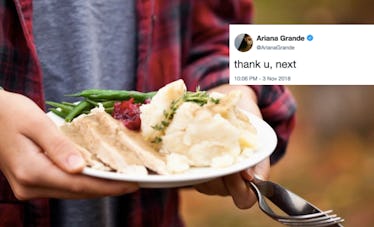 These Thanksgiving Memes Capture Exactly How Much You Love Mashed Potatoes
Alright, guys. Thanksgiving is right around the corner — and that means you'll have to prepare for copious amounts of turkey, pumpkin pie, and, most importantly, mashed freakin' potatoes. I don't know about you, but I'm counting down the days until I can make myself a plate full of Turkey Day delicacies. If you feel the same way, you're probably looking for different ways to show your followers how much you love the upcoming holiday. Thankfully, there are tons of memes about Thanksgiving that'll help you do it. I will warn you about one thing, though: Scanning through them might make you hungry.
First, let's do a recap. As you know, 2018 has been a year full of viral memes that'll either make you scratch your head or laugh hysterically. There were the "Is this a pigeon?" memes, the Yodeling Walmart Kid memes, and so many more. Thankfully, the internet worked together to create a bevy of Thanksgiving memes that prove how excited everyone is for Turkey Day. Some of them incorporate pop culture references (hello, "thank u, next"), while others use screenshots of classic TV shows that they can relate to throughout Turkey Day. Regardless, they're all hysterical and will definitely help you show your followers how much you truly love a good plate of mashed potatoes.
Let's start with Ariana Grande's song, "thank u, next." People are referencing the lyrics to describe how much food they're going to devour this year.
And that song is going to be stuck in my head for the rest of the day, now. Let's move onto the classic mashed potatoes Thanksgiving meme, shall we?
I am *ready* for mashed potato Instagram posts.
Ah, yes. I can't forget about the "jealous girlfriend" meme.
I also can't forget to bring my Thanksgiving pants to dinner.
"I will only be appeased by gravy." (Same.)
Did I mention that there are a lot of Drake Thanksgiving memes this year?
See? Let's get this turkey.
Ah, yes. The classic Thanksgiving food baby.
I take my pies seriously, OK?
After seeing all of these Thanksgiving memes, I'm sure you can relate to this one the most:
As you can see, the internet is gearing up for Thanksgiving with the best memes possible. Now, you can start sharing them and expressing how much you adore the upcoming holiday (and the food that comes along with it, of course).
If you're traveling for Thanksgiving, these memes will help you pass the time even more. Whether you're sitting in your car on your way to a family member's house or waiting for your plane to take off, the memes will fully entertain you. Speaking of planes, you still have time to book last-minute Thanksgiving flights. You can do so by visiting discount travel sites like CheapOAir, Expedia, Kayak, and more. Once you're all set with your booking, you can sit down and enjoy Thanksgiving memes without a single worry.