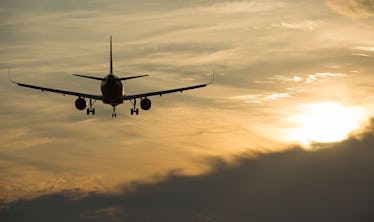 You Can Score Last-Minute Flight Deals For Thanksgiving That Won't Break The Bank
Surprise! It's already November, which means it's time to start gearing up for Thanksgiving. You'll need to figure out who's cooking what and see which family member is hosting the big dinner this year. If your family just decided where Thanksgiving is going to be held, you might have some planning to do. This is especially important if you need to fly somewhere. As you probably know, buying a plane ticket close to your departure date might be pricey. However, last-minute flight deals for Thanksgiving 2018 do exist. So before you start panicking and counting your change, search for some cheap tickets.
FYI, you might've saved some cash if you bought your plane ticket a few months ago — but I totally understand last-minute planning (trust me). But for next year, I'll give you some insight. According to Skyscanner, the best week to buy your Thanksgiving plane ticket was the week of Aug. 7, 2018. However, the best month to book your flight was September 2018. I know, the time has passed — but now that you know when to book your flights, you'll be ahead of the game in 2019.
Since you're still looking for last-minute cheap flights for Thanksgiving, I'll try to steer you in the right direction with a few options.
First and foremost, I'll show you some flight deals that United Airlines has created in honor of Thanksgiving. The international airline has listed a ton of flight options that are valid between Nov. 6, 2018 and Dec. 5, 2018. You can choose your favorite trip on the company's Thanksgiving travel page and then view its round-trip price. Some round-trip fairs are cheaper than $200 — so act fast.
If you're open to using any airline, you should check out various flight websites that offer cheap plane tickets. CheapOAir, for example, is helping people find cheap Thanksgiving flights. All you have to do is visit their Thanksgiving travel page and enter your trip information. Once you enter your departing airport, destination airport, and trip dates, a bevy of flight deals will populate on the screen.
Do you know how I'm feeling about those flight deals?
Expedia is also offering a handful of cheap last-minute flights for November, and travelers can find tickets if they visit the website's Travel Deals page. An Expedia spokesperson provided Elite Daily with some example Thanksgiving flight deals that'll definitely help fliers save cash. Some of those cheap flights from Nov. 19 to Nov. 24 include this $166 round-trip flight from New York City to Washington, D.C., or this $161 round-trip flight from New York City to Boson. Another cheap Thanksgiving flight is this round-trip ticket from New York City to Nashville for $266. If you're not flying out of New York City, though, search your origin location and see what kind of flight deals you can score for Thanksgiving weekend.
Other websites you can browse for cheap plane tickets include Kayak, Skyscanner, Google Flights, and more. There's only about two weeks left until Thanksgiving arrives, so buy your plane tickets as soon as you can.