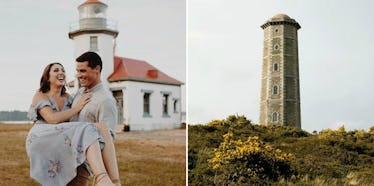 These Lighthouses On Airbnb Will Make You & Bae Feel Like You're In A Rom-Com
Like a romantic comedy, this article is about to be a little cheesy and super adorable. There won't be any piano music coming out of your screen, unless you choose to play some, of course. But, you will want to grab a box of tissues and prepare yourself for lots of happy tears, emotional gasping, and excited squeals. Here's why: After all this time looking for the perfect vacation destination for you and your bae, I've found the cutest and dreamiest lighthouses on Airbnb that'll make your life feel like a movie. No audition, lights, camera, or action required.
The only thing you'll need is each other and a few days before you're set to take off to get ready for the trip. During that time, you'll want to pack your bags, stock up on disposable cameras and Polaroid frames, and re-watch some of your favorite films. You'll want to jot down some notes on the excursions the couples go on in Crazy, Stupid, Love, Just Go With It, and Forgetting Sarah Marshall. If I were you, I would spend a little time memorizing the details of their date nights and adventures that made them fall so deeply and effortlessly in love.
Then, I'd try to recreate those scenes and make some new ones at one of these lighthouses that'll make you and bae feel like you're in a rom-com.