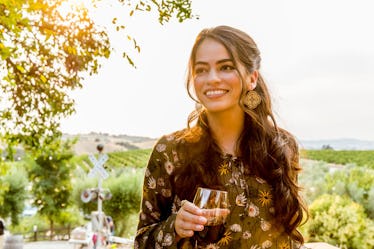 22 Captions For When You're Wining & Dining On Your Next Vineyard Trip
It's wine time, and you deserve to know how peaceful it is to stroll through the vineyard with a glass of rosé in hand. Let's be honest: You could spend hours posing for a photo shoot amongst the vines and having your mind blown by the process that goes into making your favorite bottle of red. Needless to say, Instagram captions for vineyards will come in handy for your Wine Wonderland memories.
Whether you're getting a guided tour or letting the vines show you the way, you're bound to run into so much beauty during your adventure. Summer and fall are prime times for getting outdoors and exploring everything a vineyard has to offer. You'll likely lose track of time, because you'll have so much fun sipping and savoring the day. What can you say, those boozy grapes are beyond delicious when they're fermented into red and white wines.
Anyone can go to the store and pick up a bottle of wine. I mean, you've done it a ton of times, but a day spent at the vineyard with your friends will genuinely give you a new perspective of your favorite adult drink. Sip your heart out and let these 22 captions take care of the rest.
1. "Exploring a vineyard is like signing up for an adult field trip that includes wine. Count me in."
2. "From vine to wine... in my glass."
3. "Can I be your main squeeze?" — Grapes
4. "Vineyard is my favorite "V" word."
5. "Take notes. I'm about to show you how a pro strolls through a vineyard."
6. "Does this vineyard make my cup look big?"
7. "Life's too short to drink bad wine."
8. "Wine o'clock."
9. "Wine offers a greater range for enjoyment and appreciation than possibly any other purely sensory thing which may be purchased." — Ernest Hemingway
10. "One trip here and you'll never, ever want to leave."
11. "Vineyards are basically field trips for adults and your ID is your permission slip."
12. "I think my idea of heaven is a vineyard and endless bottles of wine."
13. "I don't think it's possible not to be smiling when you're exploring a vineyard."
14. "Whatever you do, pour yourself into it." — Robert Mondavi
15. "Nothing is better for the soil than the farmer's footprints."
16. "Wine is Earth's answer to the sun." — Margaret Fuller
17. "Hold the bottle up to the light; you will see your dreams are always at the bottom." — Robert Hutchison
18. "There's no such thing as being lost in a vineyard. You're always in the right place."
19. "Every empty bottle is filled with a great story."
20. "Life is about exploring those places that make your heart skip a beat."
21. "Some beautiful paths can't be discovered without getting lost." — Erol Ozan
22. "There is life beyond the vine, but for now, I am here."
This article was originally published on