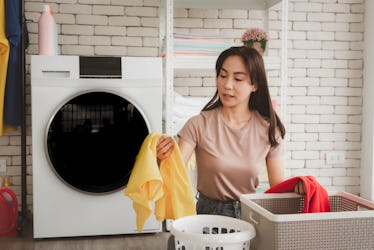 These Laundry Stripping TikToks Will Truly Make Your Jaw Drop
Supawat Punnanon / EyeEm/EyeEm/Getty Images
TikTok is not only the place to scope out the coolest dance trends and DIY projects, but it's also a great source for helpful life hacks. For instance, if you're thinking about doing a load of laundry, you might want to check out these laundry stripping videos on TikTok first. By now, you likely have your laundry routine nailed down. You might be particular about separating your whites and air-drying your delicates, but before any of that, now's the time to add some laundry stripping into the mix.
If you've never heard of laundry stripping before, it's a method of washing your clothes where you can soak your shirts, sheets, or towels in a detergent mixture in your tub to allow any leftover dirt and oils to strip away from the fabrics. After a few hours of sitting in the water, you'll be left with a dirty mixture that will likely surprise you. Even the clothes you just washed will come out with some leftover residue on them.
If you want to see a few of these before and after shots, simply scroll through #LaundryStripping on TikTok. You'll find video after video of TikTokers doing their own laundry stripping to gym clothes and bathroom rugs to see what kind of grime comes out. It truly is jaw-dropping and will make you want to try it out at home for yourself. If you're thinking of laundry stripping, check out these six laundry stripping TikTok videos to know just what to do.