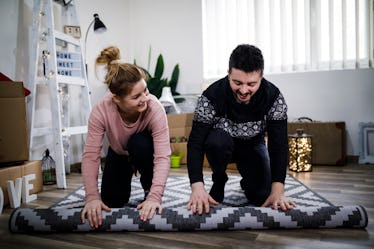 DIY Rugs Is One Of The Best TikTok Trends Right Now & You Can Easily Make 'em Too
DusanManic/E+/Getty Images
Now that it's peak cozy season, you need a home that can be a comfy place for you to lounge in. You can easily make your home fit for snuggle weather with a fuzzy new rug to tie your space together. But, rather than buying one, why don't you make one? TikTok, the hub of all things crafty and trendy, has all the rug inspo you need to redesign your living space. With these rug tufting videos on TikTok, you can DIY a unique piece to make your home feel more you.
Rug tufting is a method of hand-making rugs by sewing yarn onto a cloth. You can do this with either a punch needle ($6, Hobby Lobby) or tufting gun ($275, Tuft The World), tufting cloth ($8, Etsy), and the yarn of your choice. Depending on the TikTok you recreate, you might need a projector ($29, Amazon) to trace the design, a printer, or you can opt for freehand work.
You can tuft an abstract art piece that all your followers will swoon over when you show it off on the 'gram. Or, you can make a rug in the shape of your favorite artist or cartoon character. Whichever rug tufting TikTok video you choose to recreate, your room will be transformed into a whole new space. And the best part? Rug tufting is a relaxing way to spend your afternoons, as you tuft away in front of your favorite film or album.
We only include products that have been independently selected by Elite Daily's editorial team. However, we may receive a portion of sales if you purchase a product through a link in this article.